Welcome to the WILD side of Israel
How many people know that much of the 273 kilometer Mediterranean Coast of Israel is untouched? Or that twenty percent of the land in Israel is protected in nature reserves?
How many people know that in most of our cities, there live a plethora of wild animals undisturbed by our routines and usually not disturbing us - at least not much?
In the twenty odd years that I've lived in Haifa I've encountered jackals, wild boar, fruit bats, chameleons, mongoose, and hedge hogs all in the middle of the city. I've seen the grizzly yet fascinating interactions between the Tarantula Wasp and its spider prey outside the door of our apartment. I've watched carpenter bees landing on passion fruit flower "landing pads" that look like they come straight out of a science fiction movie. These are the other inhabitants of our country, and it is a privilege to live amongst them. I want others to know these creatures, and get the pleasure in sharing our land with them, that I do. They appear in the Wild Israel section.
I lived in Israel for years, but I didn't know the country. Then my husband and I, with our dog Taffy, started to hike the 1000 kilometer Israel National Trail and a new path opened up in front of us and we discovered a different Israel. Every leg of this hike has surprised us with new landscapes. You can share these hikes with us in the Israel Trail section.
I am writing a guide to the day hikes of the Carmel Mountains.
Finally I have placed the first pages of my papers and my resume online in the Biology Section. If you would like any of these papers please email a request and I will be happy to attach a copy.
I am convinced that by sharing my deep connection with the physical land of Israel itself that I can help myself and others to keep our morale high so we can meet the challenges ahead of us.
Please everywhere you hike, take out more than you bring in!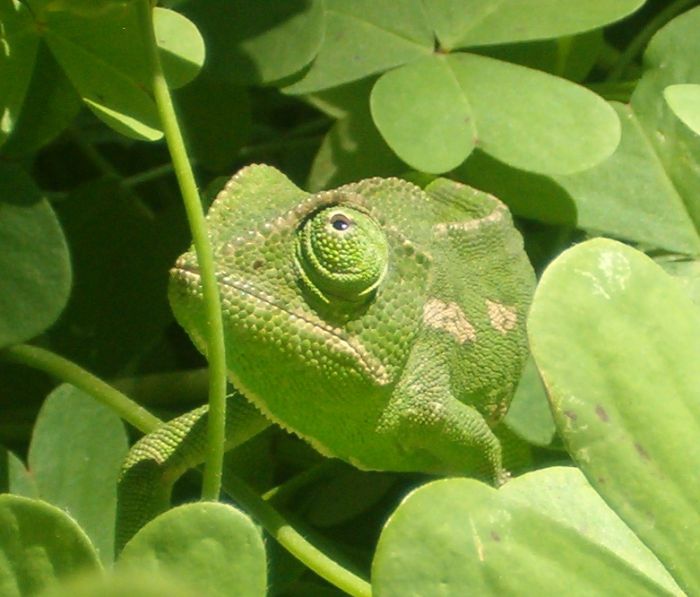 Chameleon (Chamaeleo chamaeleon) in our garden