Stashing Water
We poured over the maps for places where we could reach the Israel Trail by car to stash water. The trail from Tzofar to Eilat wanders back and forth through interesting ravines between the Negev high grounds and the Arava. We wanted to stash water with shorter hikes according to our own abilities and not according the Jacob's Guide. Finally we had a plan of how to achieve our objective, but it required considerable amount of hiking and couldn't be done in one day. We booked a room at a Kibbutz Inn and spent two full days driving our poor car on rough dirt roads and carrying the water on our backs when we couldn't drive any further. It was hard work, but after those two days we had stashed water so we could finish the Israel Trail in Eilat.
Monday 25 February 2013
We were on the train before 5 am and with Taffy under our seat we slept until the dawn started to lighten the sky before arriving at Beer Sheva. Then we caught the first bus from Beer Sheva heading to Eilat. We disembarked at Tzofar before 10 am. Tzofar is a Moshav not a kibbutz, a kibbutz is a collective with no private property – an Israeli version of mini communism that works because it's small and because if you don't like it you can leave. A moshav is simply a gated community.
We walked from the bus stop through the peaceful well planted streets to the town square and filled up our water bottle there. Then being assured by several friendly villagers that the back gate was indeed open, we walking out the back of Tzofar.

I was now worried that we would not easily recognize the tree where I had hidden the Golan Stone. On a whim I looked under the first tree we approached and even though I'd
been certain it wasn't
the right place, there was our stone.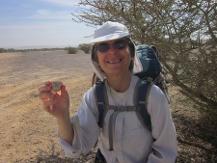 Diana with the Golan Stone outside Tzofar
We were back on the Israel Trial by 11 am and about 45 minutes after leaving the village we approached Moa which is a 3rd century BCE (2300 years old) remnant of a Nabatean fortress. We put down our packs and spent half an hour looking at the ancient ruins of a people who are reputed to have been the quintessential "Master's of the desert". The Hecht Museum website has a short description of these ancient people.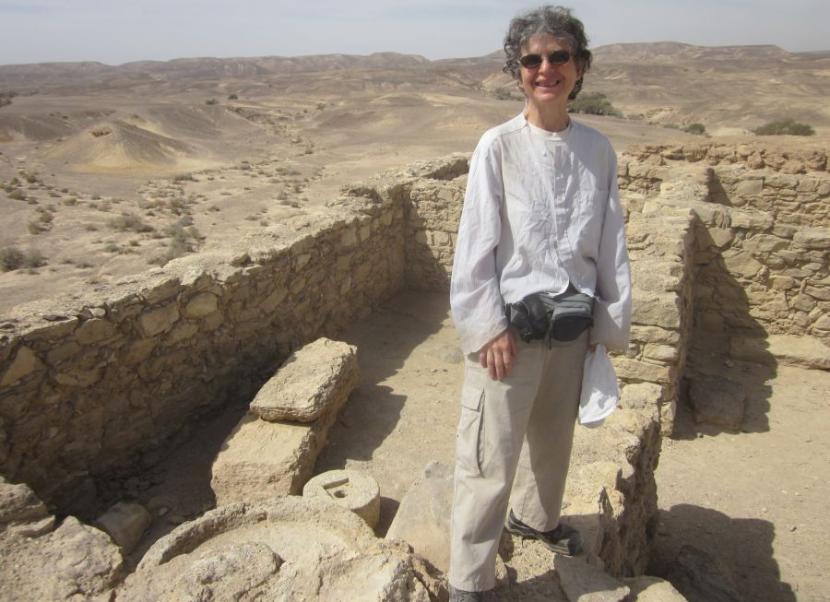 Diana standing on top of the Nabatean ruins of Moa
It was noon when we left the Nabateans behind. We were walking on the lowlands of the Arava on a dirt road going almost directly south. It was all easy, but there was a long way to go before we arrived at our stash of water. At about 1:30 pm we stopped to rest and eat lunch under a large Acacia tree.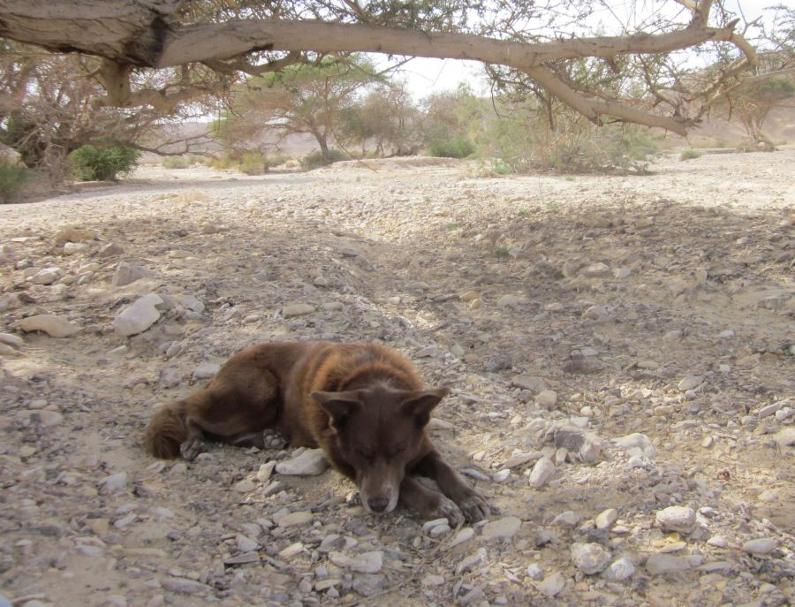 Taffy resting under an Acacia tree during lunch
The last rain had left dried mud with the clear footprints of an antelope. We walked past black volcanic outcroppings against a low cliff which blocked any view of the east and Jordan. A common desert lizard (Mesalina guttulata) sunned itself on a rock and let me take a close up picture. We came to a very steep, but short, ascent where a group of soldiers in hummers were practicing driving up and down the difficult part of the road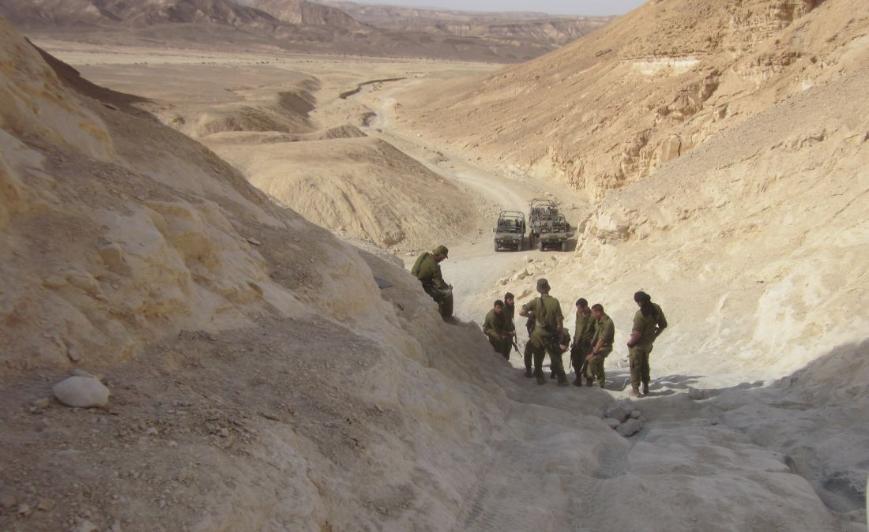 Soldiers practicing driving up and down a steep difficult incline
The walk went on and on, it was easy, monotonous, and seemed endless. My feet ached, the backpack seemed to get heavier, and the sun went down behind the ridge but we still had several kilometers to go. I complained to Don how I hated setting up camp in the dark, but what could he do about it, the distance still remained. All he said was "Stop complaining, it's not Zofar!" Finally a few minutes before 6 pm we reached our camp. The winter sun had set long before and there was barely any glow from the west, but luckily for us a full moon was rising in the east and bathed us in its moonlight as we put up our tent and fixed dinner.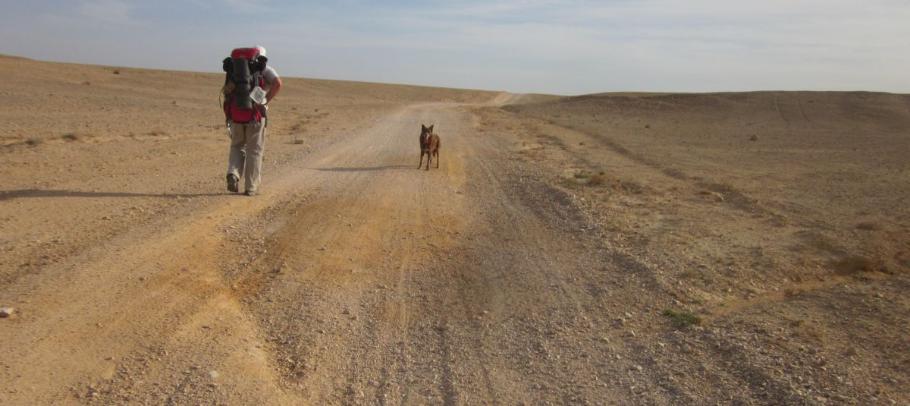 Don and Taffy on the never ending walk
After we had finished eating and were contemplating retiring into our tent, Taffy started growling viciously in between barking his head off with all the hackles of his neck standing straight up. We hate it when he alerts the whole world to our presence because we're never sure that we won't get in trouble for camping outside of a designated camping area, but Taffy has a different personality when we're at camp, and there is literally nothing we can do to get him to be quiet. I've tried holding his muzzle closed, I've tried sitting on him, I've tried bribing him with treats, nothing will make him desist in his "duties" to protect us at all costs. In this case it was soon apparent that a car was slowly making its way on the dirt road from the Barak Canyon (where we were heading). Probably day hikers on their way home. Finally they were gone and Taffy calmed down.
Tuesday 26 February 2013
The next morning we were packed and on the trail with the first light in the east. We walked the flat easy dirt road toward the Barak Canyon ( נחל ברק ). We knew we were facing a challenging day, however, we had stashed our next water only 14 kilometers away. The day's hike was short, at least in kilometers.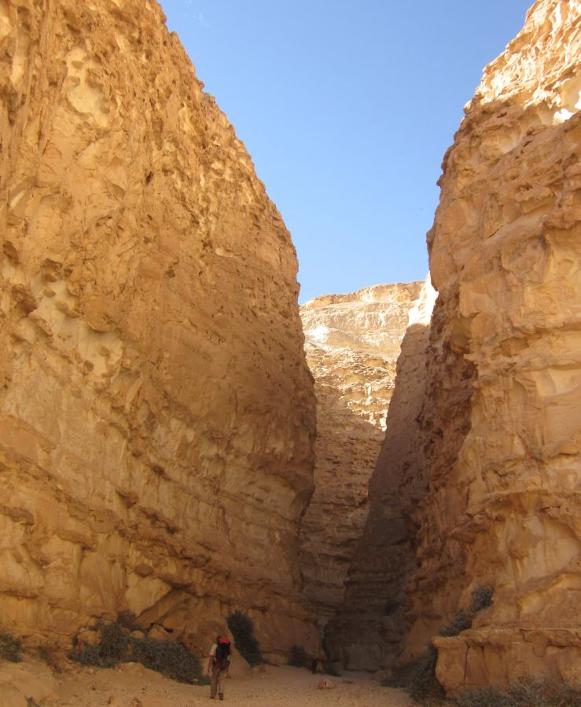 Don entering Barak Canyon (נחל ברק)
After walking for about an hour and a half we stopped for breakfast. We were still in the wide flat wadi, but we could see the cliffs ahead of us. When we had drunk our delicious hot tea and eaten our hard boiled eggs and our crunchy granola we started again. The wadi slowly became narrower, and it looked like we were approaching an impassible dead end of high cliffs. There we saw the narrow entrance to the Barak Canyon. It was like walking into a crack in the cliffs. We walked in and for a few minutes the bottom was flat and we strolled forward in a canyon that was about 2 meters wide with cliffs on either side about 100 meters high. Soon we were scrambling up short dry waterfalls and around huge boulders that must have fallen down from the cliffs in ages past. It was 9am when we started the Barak canyon and we were completely alone, but it was clear that this is a popular hike because there was all the litter that groups seem to leave behind as a matter of course.
Remember take out MORE than you bring in!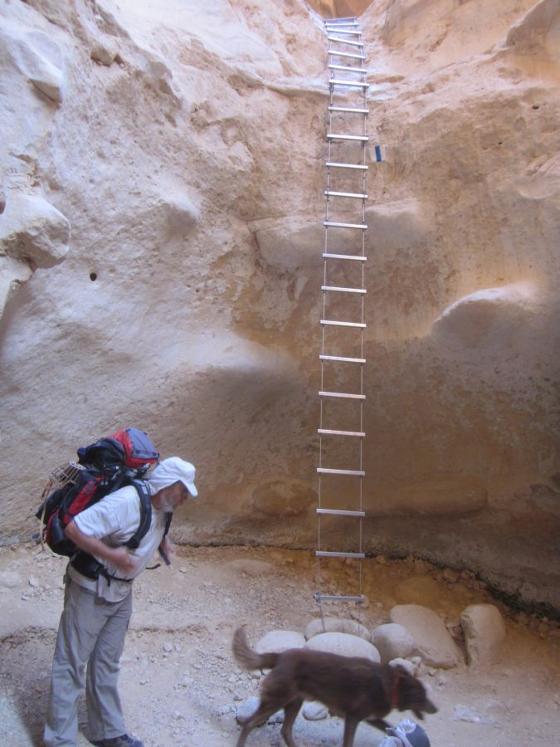 Don and Taffy in front of ladder in Barak Canyon
After about half an hour we came to the first obstacle, a dry waterfall about 7 meters high that was actually concave. It had a ladder made from cables to help us humans get up. Taffy was a different story. I put Taffy's doubleback harness on while Don climbed to the top with the rope to get ready. Then I clipped Taffy into the rope and put him up against the ladder. Don pulled while I climbed up with Taffy between me and the ladder. We've done this before, we have experience, but with all our efficiency I was still terrified and my knees shook as I climbed.
Taffy's attitude to these situations is interesting. When we reach a place that is impassable for him he becomes agitated and when Don climbs up he gets close to hysterical, crying, howling, and frantically looking for some possible way to get up. He actually calms down when I put the harness on him. He seems to understand that the harness means we are not going to abandon him. But, he hates being hauled up and doesn't make it easy. People aren't consistent, why should I expect Taffy to be!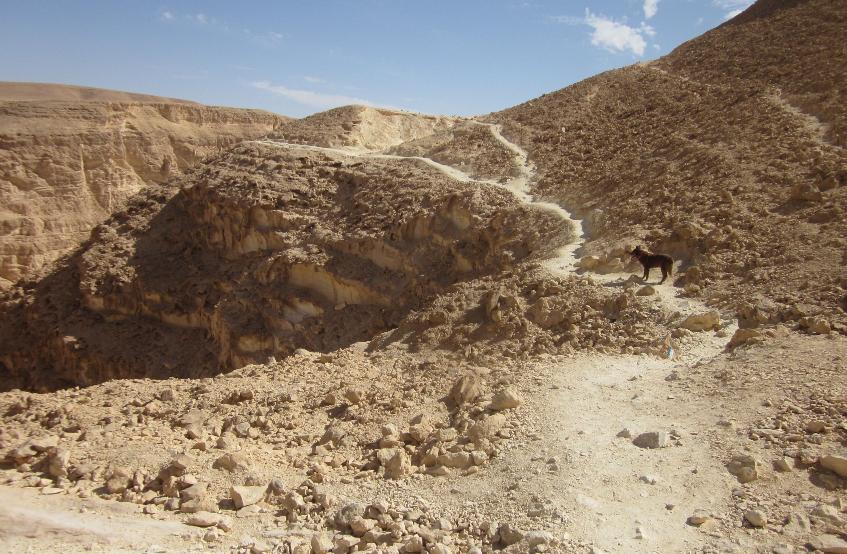 Taffy on the trail above Barak Canyon almost on the Negev plateau
After scaling the ladder it took another 40 minutes to climb out of the ravine . Then the trail went along the top of Barak canyon for a while, and finally veered to the south up the last of the canyon and onto the Negev high plateau.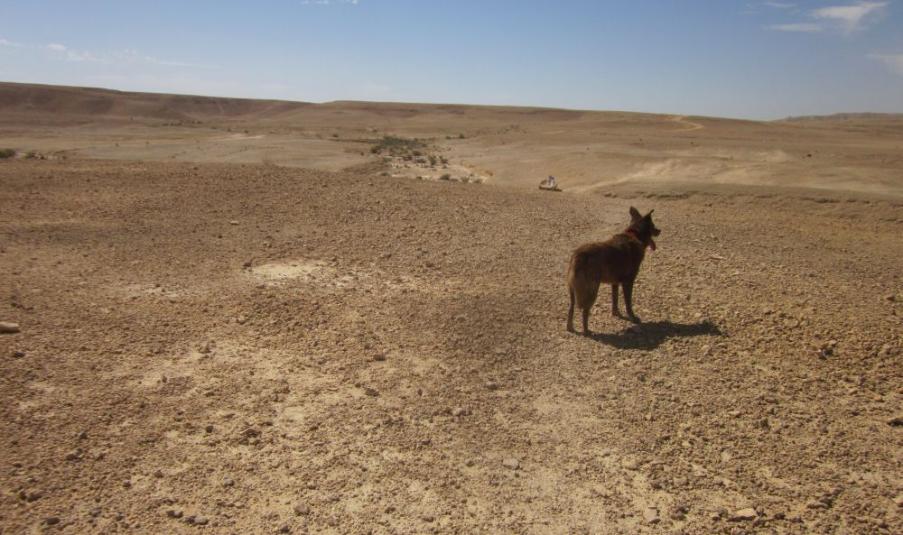 Taffy on the Negev plateau heading for Nachal Vardia ( נחל ורדיה )
We walked the flats for about 2 hours heading south towards Nachal Vardia ( נחל ורדי), this canyon would take us back down to the Arava, but before we reached Vardia we turned off the trail and messed around at the top of a beautiful unnamed wadi that also went down. There was an impressive dry waterfall about 50 meters straight down that made that way seemingly impassable, but someday I'd like to return and see if there was some way around the cliff to the bottom part of the this wild area.
Another hour brought us to the beginning of Vardia. We slowly made our way down the first steep descent and then in the shade of an Acacia tree near several shallow pools of water we ate lunch and rested. There was the one tree and the convoluted tan limestone of the cliffs below us, nothing else except silence and peace. I could have happily stayed there. We rested for almost an hour and at a little after 2pm we started the descent.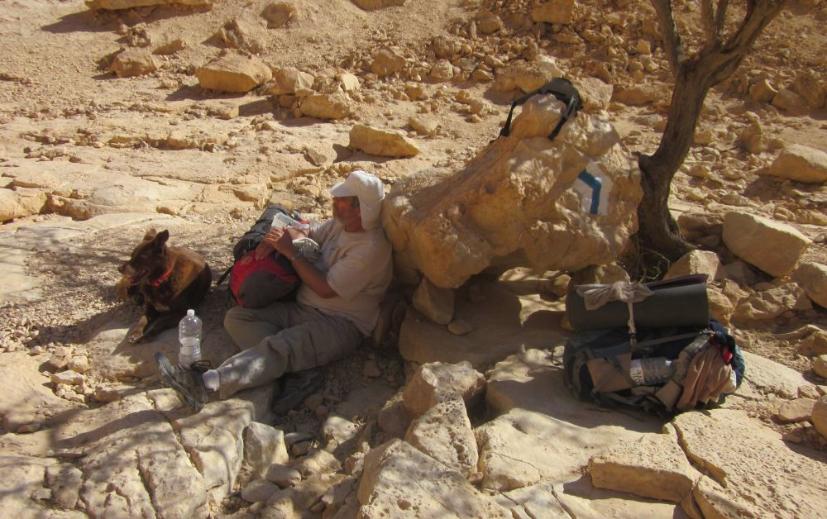 Don and Taffy under an Acacia Tree eating lunch and resting before climbing down Nachal Vardia
At first the trail went along the edge of the ravine while the ravine itself got progressively deeper. Then the trail turned down the cliff with staples in the rocks to help people get down. Taffy was able to find a way to clamber down without any help.
We were then walking in the river bottom, around small pools of water with cliffs on both sides. Forty-five minutes after we'd left the beginning of Vardia we came to the first major obstacle. It was a ladder made from cable that went down about 10 meters to a flat area over a deep pool of water. It was hard getting Taffy down because the ladder was not straight. While Don lowered Taffy from above I tried to drag him along the ladder. At one point Taffy struggled to get on a small ledge to the side and scratched me. At another point Taffy got slightly stuck on the ladder, but even with these difficulties we got him safely on the flat area in about twenty minutes.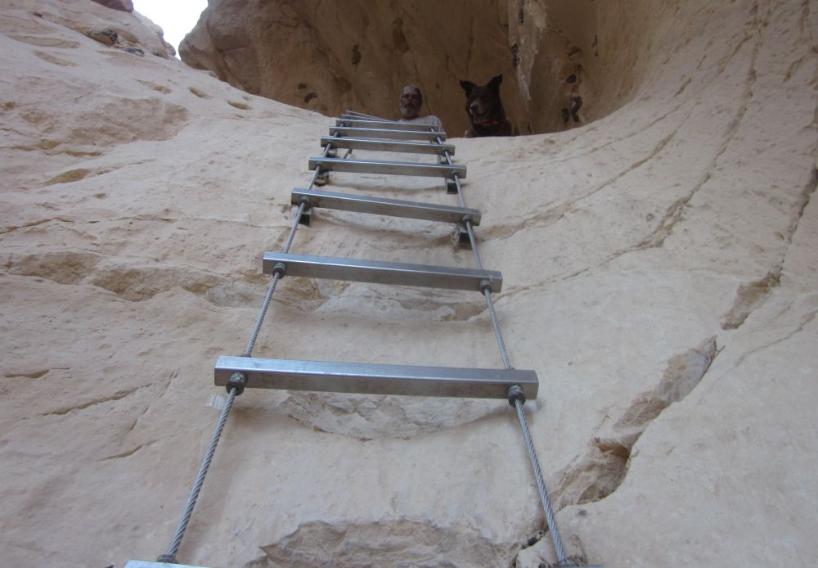 Don and Taffy looking down the first major obstacle of Vardia
It was a ladder made from cable that went down about 10 meters to a flat area over a deep pool of water. It was hard getting Taffy down because the ladder was not straight. While Don lowered Taffy from above I tried to drag him along the ladder. At one point Taffy struggled to get on a small ledge to the side and scratched me. At another point Taffy got slightly stuck on the ladder, but even with these difficulties we got him safely on the flat area in about twenty minutes.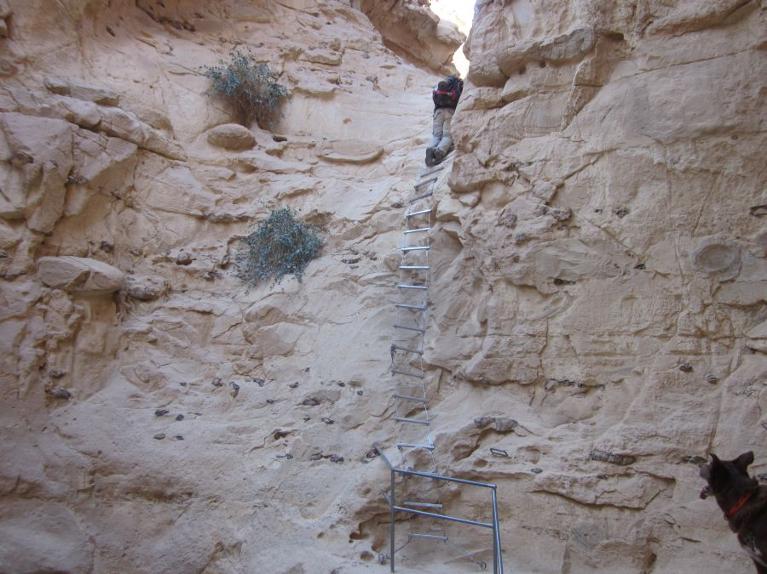 Don on ladder after Taffy is safely down.
There was a narrow ledge that skirted the deep pool and this led to another dry waterfall with another ladder going straight down about 7 meters. The problem was that the ladder went right into a pool of water which looked really deep. Would we have to swim across? If so what about our backpacks?
We sat there and analyzed the situation. Luckily we had a lot of rope, so we figured if we really couldn't walk across and carry our packs above our heads, we could string a rope bridge and get them across that way.
Don stayed on top with one end of the rope and I stripped to my T-shirt and underwear and climbed down the ladder with the other end of the rope. First I tried to find a shallow way to walk across, but the pool was way over our heads with no shallow ledge along the side. The water was shockingly cold. When I climbed up the staples on the other end I was shaking so hard I had trouble making my hands work to tie the rope to a convenient staple.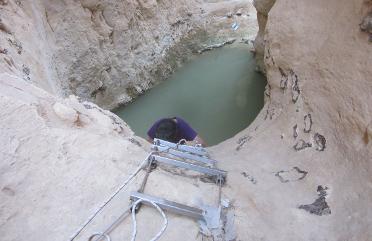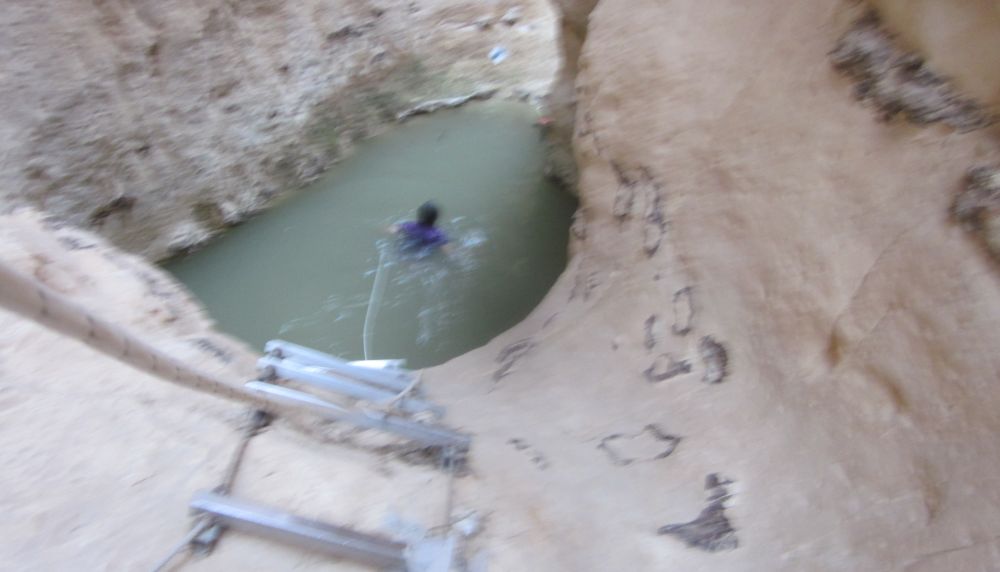 Diana climbing down the ladder and then swimming across the pool carrying the rope
Meanwhile Don organized and tightly packed the backpacks with a thin rope hanging off of each one. Then he put one of them on the rope and tried to get it to slide down all the way to me on the other side, but with the weight of the pack the rope drooped and the pack stopped out of reach. It was an act of pure will, but I had to get back into the water and swim to the rope hanging down from the pack, swim back, and pull the pack across. I had to do it all over again for the second pack.
Then Don pulled the rope back over to his side, clipped Taffy into the rope and basically had to push the unhappy dog off the edge so he could lower him into the water. Taffy then swam over to me and finally Don himself climbed down into the water. I think he thought I was exaggerating about how cold the water was, but when he had to get in himself, that was a different story, his face was comical!
We were all across, our packs were still dry, Taffy was safe, and after I dried off and dressed the worst of my shaking ended. The whole process had taken an hour and it was almost 4pm when we started moving again. We were now worried that it would get dark before we got out of the ravine.
We soon came to another pool, but this one was shallow, and in a flat area. There was a narrow edge that Don and I were able to cross by holding on the rocks above so we didn't have to take our boots off.
Taffy couldn't fit on the ledge, however, he didn't have boots to take off, all he had to do was walk across. The stubborn dog absolutely refused. We called and cajoled, "Taffy come on boy, it is barely a foot deep!"
Seeing us both on the other side he started barking and howling as if the world was ending, still he refused to get in the water. I was about to take my boots off and show him how shallow the water really was by walking back and then taking him with me on a lease, but before I had a chance he did the damndest thing. He backed up, and then running full speed, he ran on the ledge sideways, with momentum keeping him from falling. Towards the end when his forward momentum wasn't enough and he looked like he would land ignominiously in the water, he kicked with his hind legs and flew the last few meters landing on his feet on dry ground.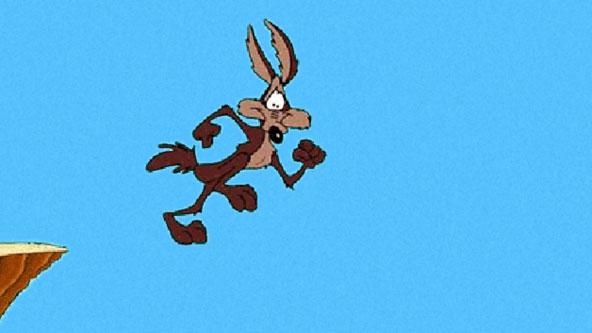 Taffy looked like Wile e Coyote defying gravity (image from http://www.nicolaginzler.com)
The whole maneuver had looked like one of those Disney cartoons that defy gravity. Taffy started prancing and playing like a puppy, clearly saying, "See! See! I didn't have to go into the freezing water again!" The sound of our laughter echoed in the wilderness.
As we continued walking I kept saying, "Taffy you idiot! the water was only a foot deep", and Don and I would start laughing all over again. Every time he heard his name Taffy would glance back and wag his bushy tail, and on we went.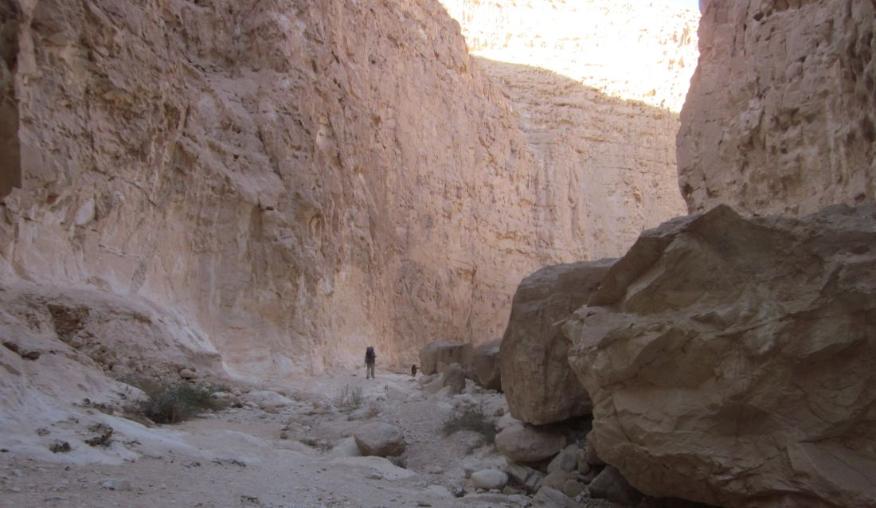 Don and Taffy walking out of Nachal Vardia
A few minutes later we walked out of Nachal Vardia into the wide flat Nachal Paran (נחל פארן ) that runs north - south in the Arava. It was already 4:30pm, and the sun was getting low on that February day, but we'd finished the difficult part of our hike, perhaps in a technical sense the most difficult part of the whole Israel Trail, so we weren't worried.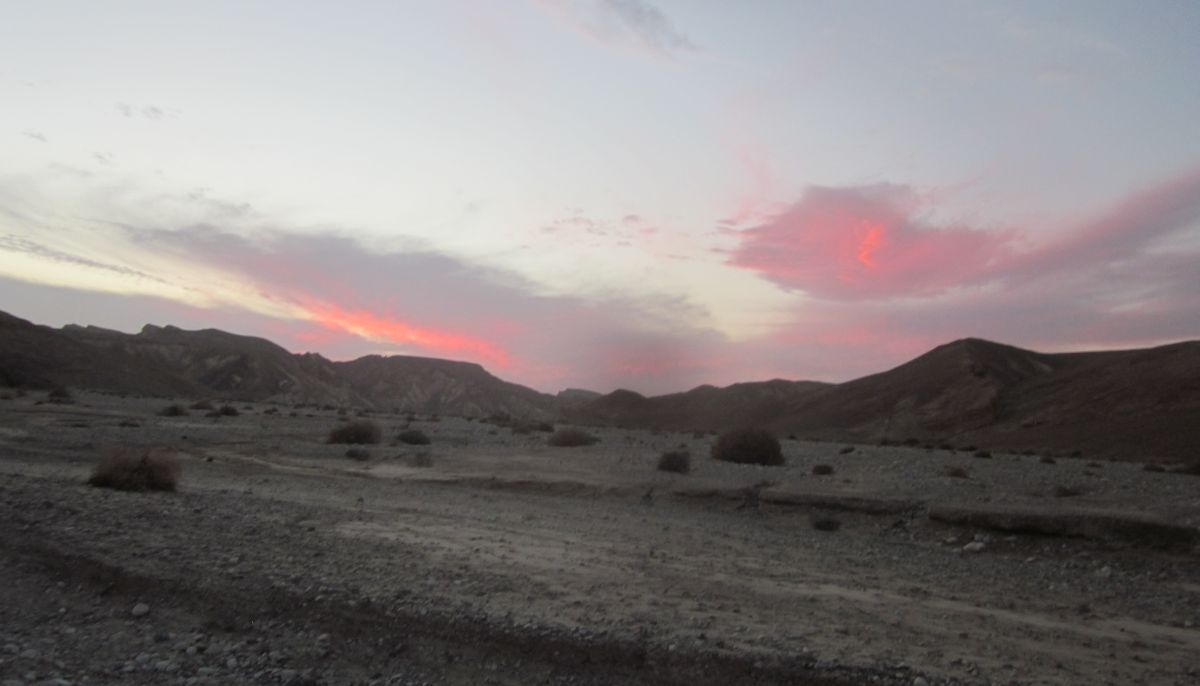 Still walking at sunset in Nachal Paaran ( נחל פארן )
The clouds became pink and then scarlet and as it got darker if became difficult to see the blazes and stay on the trail. Soon we were walking in the true night, but nevertheless we found the turn into Nachal Tzichor (נחל ציחור) and then after a brief search we found our water stash and carried all the water across the wadi and up on a wide shelf which felt less exposed. There we managed to set up camp and cook our standard noodles and cheese in the dense darkness of the moonless evening. We were still riding the high of having Vardia safely behind us. After we finished eating and started to clean up, Taffy again got into one of his fits of barking and growling, and soon we saw a group of hikers walking past us using flashlights to navigate. They made no comment to the insane barking that was coming from the edge of the wadi and only when they were far gone did Taffy finally quiet down.
Wednesday 27 February 2013
As usual we woke before dawn and packed up our camp by the light of the setting moon. We walked on the dirt road on Nachal Tzibor towards Route 40. We ate breakfast in the middle of a dried mud flat, which again had footprints of an antelope who no doubt had come there to drink.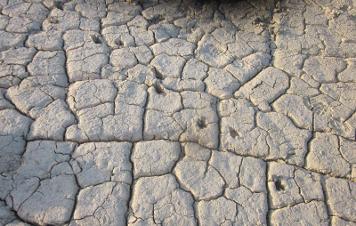 Antelope tracks on the mud flat where we ate breakfast
The next part of the Israel Trail is considered the ugliest and most boring. There are about 40 kilometers along Route 12 through flat desert, alongside army training grounds where the limestone is crushed into powder by the maneuvers of trucks and tanks. Many hikers hitch a ride or rent bikes to bypass this section. For us, however, there was special interest because our son is stationed at the army base in Shizafon and the trail goes right past it. We were planning to hike to his base on this last day of this leg of the Israel Trail, and leave the Golan Stone there until the next time.
After breakfast we crossed Rt. 40 and tried to find the trail which cut the corner to Rt. 12. There were no visible blazes and we almost ventured into an army firing range. There are many signs in Israel warning hikers not to enter into army training areas, but some are more serious than others. The signs near Rt. 40 were quite explicit about what would happen if you entered! We turned around and finally did find the tricolor blaze and the unfrequented trail.
Soon we were walking on a weird dirt road that was banked on each side, parallel to Rt. 12. We now had about 18 kilometers to hike and we needed to do this in 5 hours so we could catch the 2:30pm bus back home. The walking was easy because we had cool February weather and we weren't carrying too much weight.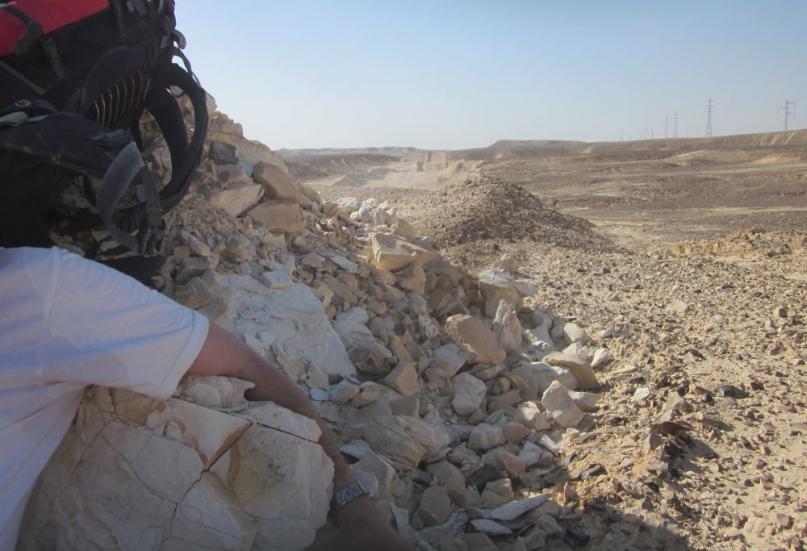 The Israel Trail along Route 12. The road to Shizafon
Sometimes we walked in silence, deep in our own thoughts, but we also talked about our sons and how proud we were of them, we talked about the Israel Trail and how we could remember every single place where we had stopped for breakfast on the trail during the four years we'd been hiking, and finally when we ran out of things to talk about we composed a song which we sang as we pushed ahead.
On the Road to Shizafon
Where our army son calls home,
And the jets they roar like thunder,
Out of Ovda, past Ramon.
Listen to this clip for the tune
http://www.youtube.com/watch?v=k5_M9kTBmug
With apologies to Rudyard Kipling! Our ditty comes from his song
'On the Road to Mandalay'
Come you back to Mandalay,
Where the old flotilla lay
Can't you hear their paddles chunking,
From Rangoon to Mandalay
On the road to Mandalay,
Where the flyin'-fishes play,
An' the dawn comes up like thunder,
Outer China 'crost the Bay!
I know this poem and song because my father used to sing it in his wonderful baritone on some of our family car trips in times long past.
At around 11am we rested. I find that contrary to how I used to be when we first started hiking four years ago, I can now get comfortable and sleep on practically any surface, so I threw myself down on the flint and dozed for a while.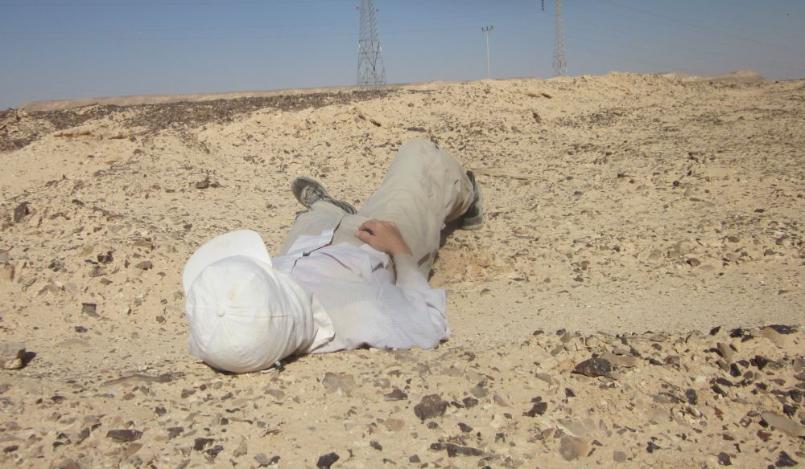 Diana dozing on the limestone and flint
There were blooming flowers and greenery in every slight depression where the winter rain concentrated, but except for that the landscape was uniformly tan, with almost no topography, but it wasn't nearly as ugly or as terrible a hike as we had been led to believe. We reached the Shizafon base at 2:15, carefully hid the Golan Stone, and then waited for the bus along with all the young soldiers lucky enough to get leave that day.