Wednesday 13April2011
Taking an early train and a shared taxi we managed to arrive at Dvira Junction gas station before 8am! There we bought bottled water (it was easier than dragging all those bottles with us on the train), gave away the bottles that we couldn't carry, and found ourselves back on the trail at 8:15am in the morning. This was the first hike where we were trying to make distance because it was important to make it into Arad (gate way to the desert) on this leg, but Arad was more than 70 kilometers away – could we hike so far in 2.5 days? This was also my first Israel Trail hike with new hiking boots. I had walked right through the soles of the old Asolos.
A few minutes walk brought us to the Israel Trail and the spot where we'd hidden the Golan Stone, which we retrieved easily and off we went.
Our first stop after an hour of walking was the Teva forest (not marked on the map) a few minutes further along the trail than Kibbutz Dvira. The area had a working water fountain and nice picnic tables. We sat at a table, drank water, and watched a group of army guys (who didn't want their picture taken) mess around with cool little off road vehicles. Their commander came over and asked us if we needed any help. Did we have garbage that he could take for us? Could he give us some food? Anything at all? We explained we were at the start of a hike and didn't need a thing.
We continued walking through the rolling hills, first in the small forest, and then past fields of winter wheat now more golden than green. Half an hour brought us to an almost unused paved road that passed a turn off for the Za'aq Ruins (
חורבת זעק
).
It is impossible to do everything! So we had to pass them by, but they sound fascinating, with more Bar Kochba era caves and the ruins of an ancient village. We'll go back and see them some day.
The Israel trail went on the almost empty road for about two kilometers and then turned off into the Lahav Nature Reserve

(

להב

שמורת טבע

)

. It went up a hill of scrub, with the loudest sound being the song of crested larks, Galerida cristata (go to this link to hear their song). Besides the larks there were also flocks of huge birds which I think were migrating white pelicans (Pelecanus onocrotalus), but they were too high for a definitive identification.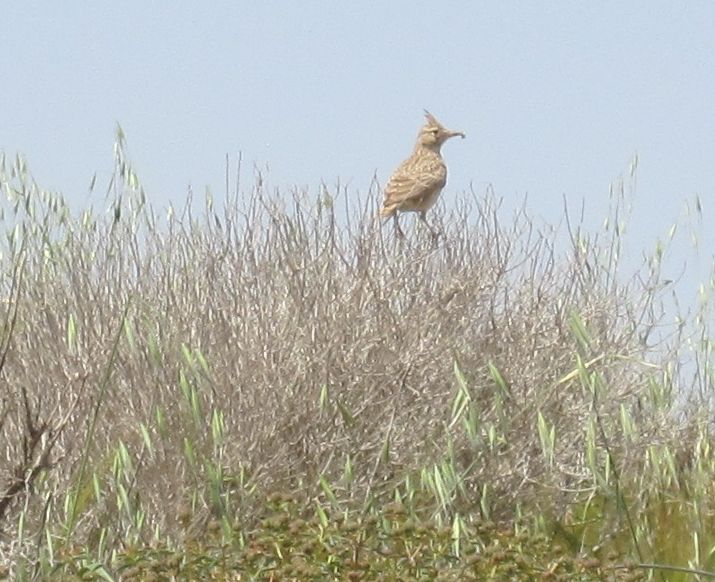 At the top of the hill, with a view of the Lahav Forest ahead, we stopped for a snack of dates, figs, nuts and chocolate – one of the advantages of hiking all day is that you can eat anything you want. The trail went down the other side of the hill and we were soon in the Lahav Forest walking towards the Joe Alon Center, a museum dedicated to the culture of the Bedouins, named after the murdered Israeli aviator. At the center they let us enter for free to fill up with water. From there the trail went down hill, still in the forest. Another fifteen minutes found us heading out of the forest and once again into fields of winter wheat that were still green, some of them were being harvested while we walked by.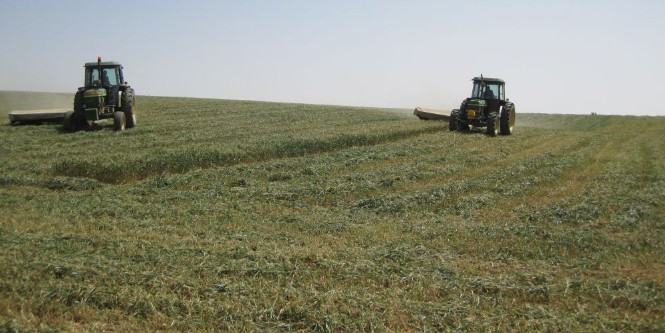 About an hour from the Alon center, walking in lovely, peaceful fields, the trail approached the high tech fence between Israel and the Palestinian administered area. We were now hiking in the southern part of the Hebron Hills. There was a weirdness about the lonely, peaceful scene, in which the tweeting of birds was the loudest sound, with that fence in the background. And actually that very weirdness is the irony of life here in Israel.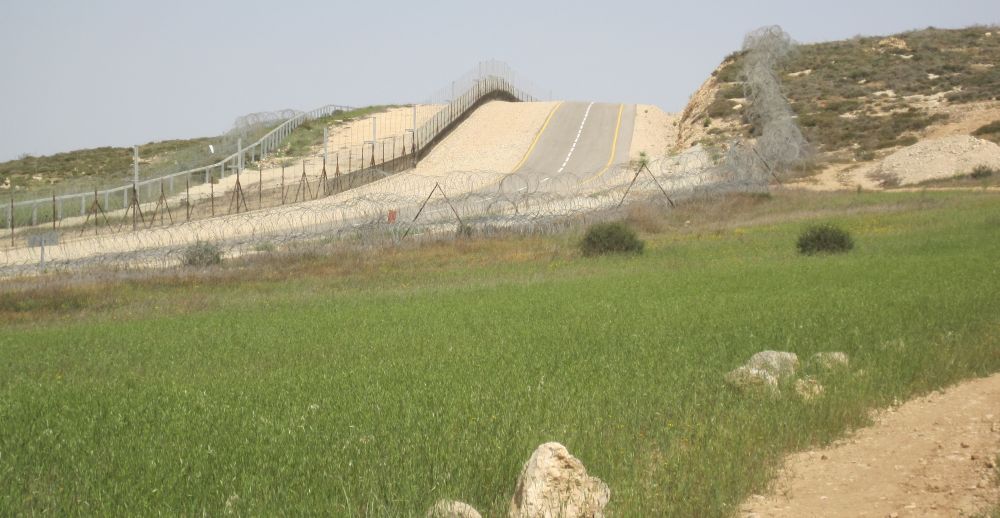 Soon after reaching the fence we entered the Eastern Lahav forest. There under a pine tree, with the silent fence in view to the north, we rested and ate our lunch of roast beef sandwiches. I was soon freezing in the colder than usual spring weather so I quickly got out of my sweaty hiking t-shirt and into my wool sweater and hat! As we rested, we looked over the map and it became clear that while we were approaching the Judean desert, nevertheless this hike was almost entirely in forests - forests where every single tree had been planted by a person. It boggles the mind, the sheer number of trees, 220 million trees have been planted in Israel by the Jewish National Fund! Link about forests in Israel.
At 3pm we reached the Kibbutz of Sansana, Israel Trail Hikers are welcome to stay at this kibbutz, but of course it was much too early to stop if we were going to reach Arad on Friday. From Sansana the trail veered on and off of another empty road for several confusing kilometers. I managed, to get a picture of one of the birds of which we kept getting glimpses – a stone curlew (Burhinus oedicnemus) (כרוון מצוי ). Then the trail went out of trees for awhile through fields of winter wheat.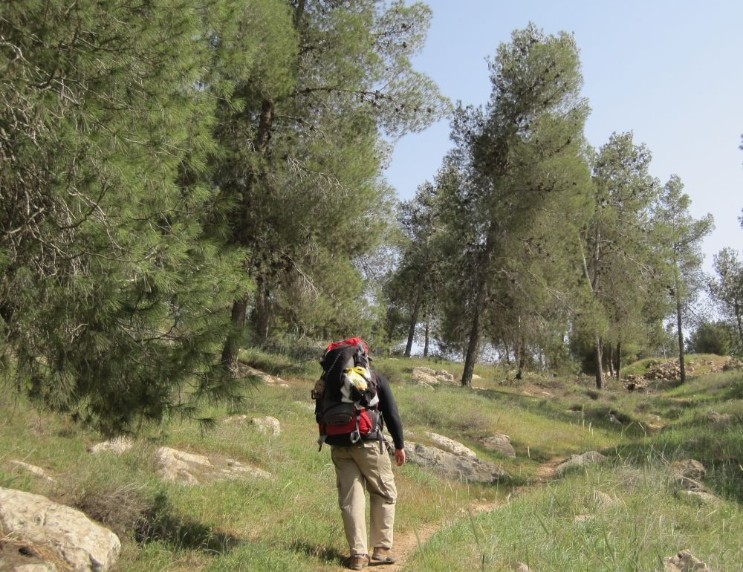 We were headed towards the town of Meitar (מיתר ) and the Meitar Forest where we hoped to find water and a good place to camp for the night. We reached this next forest at about 4:30pm and another thirty minutes brought us to a picnic area with tables and water fountains. Here was our perfect place to fill up with water, but we couldn't stop there because a Bedouin man with a few horses tethered nearby, had several fierce dogs who were aiming to make mince meat out of Taffy. It was a national park so he was certainly there illegally, but what could we do. We went on hoping there were other similar areas. The trail went up a steep hill and after about fifteen minutes of climbing we were at the top with the town of Meitar perched on the next hill top to the south, and the fence below us to the north. There was an old abandoned guard station slightly off the path that we investigated, and there, on the other side, was a picnic table and a water faucet! From bitter experience we tried the faucet before getting too ecstatic. Water gushed out, halleluiah! we had a perfect camping place.
We were prematurely ecstatic. When we started to make dinner and needed water, it turned out that that preliminary gush of water was all there was, not even a trickle more would come out of the accursed faucet. We were both exhausted, but poor Don took our water bottles and trudged back down the steep hill to the picnic area, filled them up, and trudged back up, while I set up our tent. Taffy, who hates it when we are separated, waited anxiously, with his whole attention riveted in anticipation of Don's return.
While he was gone the evening set in, and the wind picked up. It was freezing, and we were miserable trying to make dinner with a hurricane around us. In the end we went into the rather trashed and disintegrating guard house and ate there out of the wind. Then, thankful for our tent, we went to sleep in our snug sleeping bags.
Thursday 14April2011
We woke at 4am and were on the trail at 4:30. Today was the make it or break it day in terms of getting to Arad, to get there we had to go at least 25 kilometers, in our favor - the terrain and the trails seemed easy , at least on the map.
The slightest glimmering of dawn was just barely visible in the east when we started walking.

We carefully made our way down and out of the Meitar Forest. We were now walking on a dirt road through scrub and grass land, climbing up and down several large and steep hills. At almost exactly 6am we reached the top of the tallest of these hills called Mount Hiran (
חר חירן
) . We had a 360 degree views of the country side, with the sun poring over the horizon. The perfect place for our breakfast of strong hot tea, hardboiled eggs and granola with long life milk.
From this vantage point it was clear why the 1948 armistice lines were called the green line. On the one side there were green forests while on the other there were yellow fields as far as the eye could see.
We ate and rested for almost an hour, and then headed towards the Yatir Forest which was in sight about a kilometer away. We passed a Bedouin sheep herder, then we came to a metal tower which was making a strange, repetitive beeping noise, and then we were walking on the edge of the forest. There were pine trees to the north, scrubland to the south, while we walked into the eastern sunrise.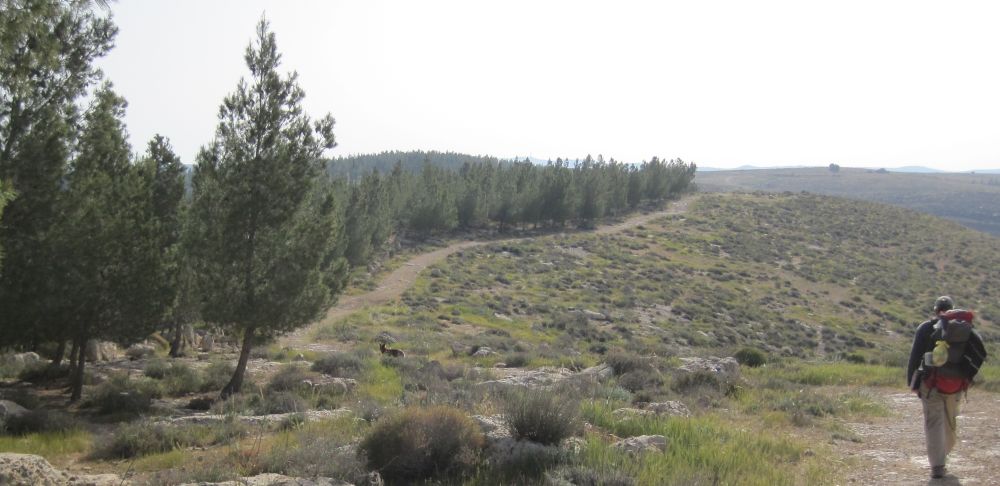 The Yatir Forest where we walked is a wonder. It was the brain child of Yosef Weitz who in spite of the derision of the established scientists, pushed through his dream of planting a forest in the desert, and reversing the global trend of desertification. There is a saying attributed to Ben Gurion that may be apocryphal: he explained his desire to make the desert bloom by planting forests and a group of scientists explained why it was impossible, which prompted Ben Gurion to say "get me different scientists!" and of course the rest is history.
Yatir is the largest planted forest in Israel, it is the subject of many scholarly articles in prestigious journals, and has shown that many assumptions held by scientists studying global weather patterns were wrong. The two biggest surprises are: 1) this forest on the edge of the desert is as productive as other forests in temperate climates, thus taking up much more CO2 than expected, and 2) there is a dramatic decrees in the temperature around the forest due to reflection of the powerful solar radiation. Take a look at The Yatir Forest Research groups website for the scholarly articles,
or at this Jerusalem Post article for an overview of what they have discovered.

After about 45 minutes we crossed a deserted road, and passed another Bedouin sheep herder who had two truly gorgeous dogs. Most of the Bedouin dogs are at least partly an ancient local breed called Canaan dogs (
כלב כנעני
)
, these two were perfect examples of the breed.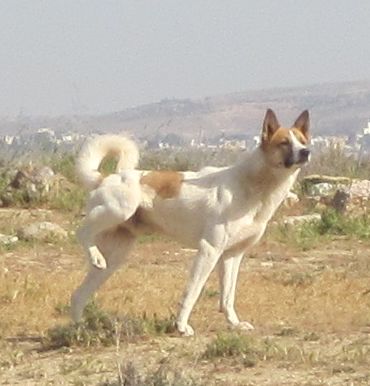 Not far from the road the trail passed the Yatir ruins ( חורבת יתיר), which is believed to have been at first an ancient synagogue from the third century, and then later became a Christian village. There were pillars, and carved stones all in this wild area.
Overlooking these ruins was a small Bedouin encampment. Most Bedouin's in Israel are no longer true nomads. However, during our last few hikes we've seen that there are some who still live the traditional nomadic life. They build camps, like the one in the picture, in which they stay for a few months before they move on to a new place.

We now entered the main part of Yatir forest. Mostly the trees were Aleppo Pines, but there were plots of other types of trees, some newly planted, some older, and all seemed to be thriving. We were heading for the Foresters House which has facilities for group outings as well as a room reserved only for hikers (no reservations, first come first served), where they can stay for free, sleep on a bed, cook their meal, and perhaps most important take a shower! There was a shower in the room which wasn't working attached to the bed room, but that didn't matter because across the courtyard there were shower rooms.
We arrived before 10 am, our early start was paying off, though we were exhausted. We took the opportunity to shower, munch on our snacks, and completely rest for a full hour.
Refreshed we left the Forester's House and walked mostly on easy dirt roads through the forest. In the valleys of the forest, we passed vineyards, which I recently found out provide the grapes for the Yatir Winery. Take a look at these two links to find out the amazing story of a one of the best boutique wineries in Israel. Here wine was made more than two thousand years ago and now is being made again.
The Yatir winery's website
and a Blog by a Frenchman about the Yatir vineyards.

We were now looking for a place to eat lunch. The map indicated a picnic area near the Yatir Reservoir, however, we didn't find the picnic area or the reservoir. In the end we sat under a tall tree and ate our standard fare of salami on pita with mustard. I spent some time taking care of blisters forming on my heels, the price of hiking in new boots, and then after resting we set off again.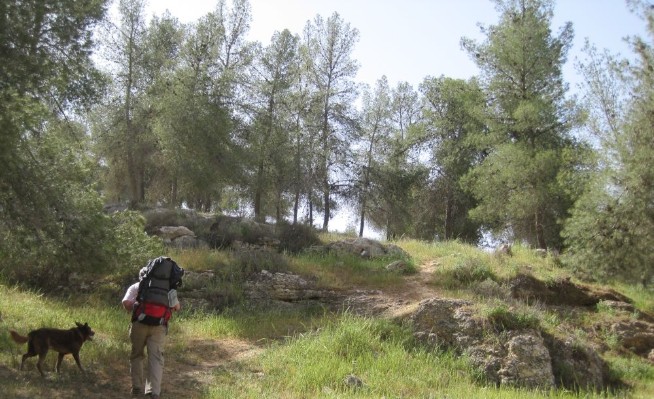 When we were planning this hike we'd set Kibbutz Amza (
עמשא
), which is at the eastern end of the forest, as the place we absolutely had to reach in order to get to Arad the next day. We got there before 2pm. It now seemed probable that not only would we reach Arad, but that we'd get there in time to catch the last Friday bus back to Haifa and let our son Beni off the hook from having to drive all that way to pick us up.
So we walked out of Yatir Forest, walked acrossed the gravel road going up to Kibbutz Amza, and started on a path through scrub land, up hill and southwards. We soon noticed that the path had square stones laid crossways every few meters, and we realized that we were on the ancient Roman Road which made its way from Eilat to Jerusalem. Behind us we could now see the whole Yatir forest going off into the distance to the west, while the hill blocked our view of what was ahead.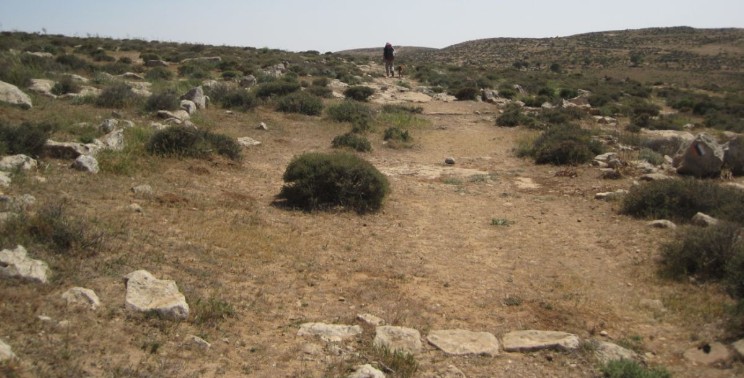 Then in a few minutes we reached the crest and looked east at the Judean Desert spread out in front of us. Look west – and there is a forest, look east – and there is … desolation.
I felt an unexpected sickness, a kind of anguish. It is one thing to drive by the desert in a car and visit some interesting place or another, but it is an entirely different thing to look at such barrenness, and from that distance it looked truly empty of life, and understand that you will soon walk there, and live there for days at a time.

The Judean Desert starts so suddenly because it is caused by the rain shadow of the Judean Mountains that we were walking on. The western side towards the Mediterranean Sea gets between 300 - 500 mm of annual rainfall enough rain to support a forest, the other side is an extreme desert getting between 40 – 50 mm of rainfall annually.
We reached the highest point of the hills we were traversing in about thirty minutes and there we drank and took a few minutes rest. We continued on the Roman road, still going south, but now traversing the other side of the hills, gradually going down hill.
An hour walking through scrub land brought us (at about 3pm) to a huge quarry where machinery was grinding up great chunks of limestone blasted out of the hills, into various sized pieces, making clouds of dust that was carried off by the wind. The trail went close to the mine and for a while we gagged on the dust. We noticed that the village of Drejat was on the other side in line of sight to this mine. How can they manage with that constant noise and dust? Yet there are several descriptions of the village of Drejat that describe it as being picturesque and a good place for hikers to find a place to stay. Here is a link to the village webpage and here is another link with a blog about a group who stayed there.
Thankfully the trail soon went steeply down a wadi taking us out of sight of the operation. We were leaving scrub land and walking into the rain shadow. We could now see Arad perched on a mountain across the wide flat Arad Valley. This valley, however, was still not the extreme desert we would meet after Arad, and much of it was pale green and also planted in winter wheat.
Half way down there was an ancient well with a rosette, which is a Byzantine symbol, we sat there and drank. While we rested we heard some one piping a haunting tune. (??) It was a Bedouin sheep herder below us who was playing a recorder while he walked with his sheep.
Four O'clock saw us at the bottom of the valley. We were now walking on a dirt road which was heading directly towards Arad. All around there were relatively permanent Bedouin settlements, and scattered around them were camel, sheep and goat herds. There was debris all over that seemed to radiate from each of the settlements.
Where were we going to camp? We were both reaching the end of our endurance, yet in that flat area with Bedouins watching our every move, it didn't seem possible we would find any privacy. We sat down on the side of the road, and even sitting we were the tallest thing around. While we rested our feet, and I dealt with blisters, we looked at the map for some idea of what to do. Don pointed out that Tel Arad, an archeological site, was about 3 kilometers further along. We looked up the road and sure enough there were some slight hills in the distance. That would be our destination.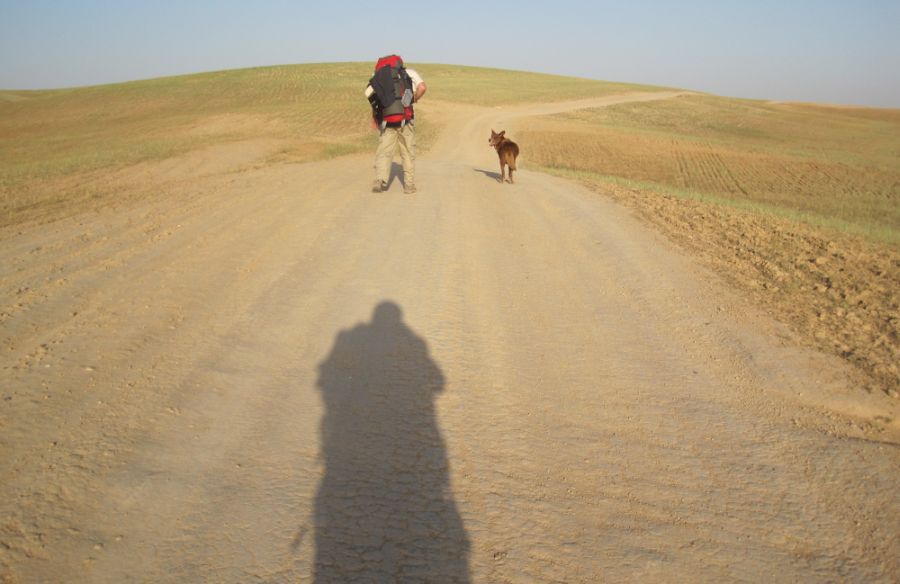 We trudged forward. A Bedouin boy came up to us and asked for a treat (I wish we had had some candy) and when Taffy came up to him, he practically climbed up on to Don's shoulders in terror. Further along, as we passed a group of shacks, a whole troupe of little ones came running to us begging for treats that we didn't have to give them.
We reached the hills, but while there were now little valleys where we could hide, they were so rocky there was no possibility of setting up the tent. Finally we made one last push and in front of what was clearly an old cistern there was a perfect flat area facing the Tel Arad ruins that sat on top of the next hill. Here was our camp.
We had walked more than 30 kilometers and Arad was about 10 kilometers away.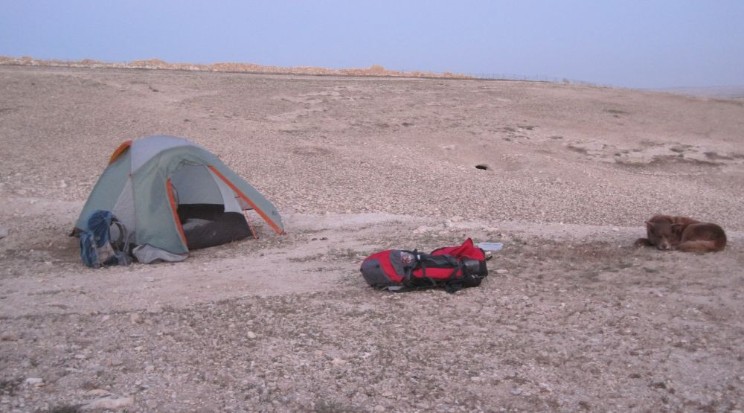 Friday 15April 2011
We woke at 4am and again, as the day before, we started walking at 4:30am with only the slightest tinge of light showing in the East. We did not start exactly on the Israel Trail, instead we walked across the wadi and along the fence around (
תל ערד
) the Tel Arad archeological site.
This was a larger place than we had seen from our camping place. The main ruins were further up and out of sight. Here archeologists have found artifacts as far back as 4000BCE, and there are also remains of a temple from the time of King David and King Solomon. Here is yet another place that we need to come back to.
While we carefully made our way in the dim light, we saw a wild cat. The creature screamed at us, and behaved strangely – running back at forth in front of us. It probably had a litter near by and was afraid of what Taffy would do. We kept our dog closely at heel.
Soon we were at the front gate to the park which was conveniently open. We quietly went in and filled up on water and went out with out waking anyone. A few minutes later we crossed Route 80, and were now walking along agricultural lands. What ever I had expected from this part of the hike it wasn't to once again be walking next to orchards of fruit trees, but that was indeed the case. The sun came up over the horizon in this area, and when we looked back it was shinning directly on Tel Arad which was silhouetted by the huge mine we'd walked past, in the background.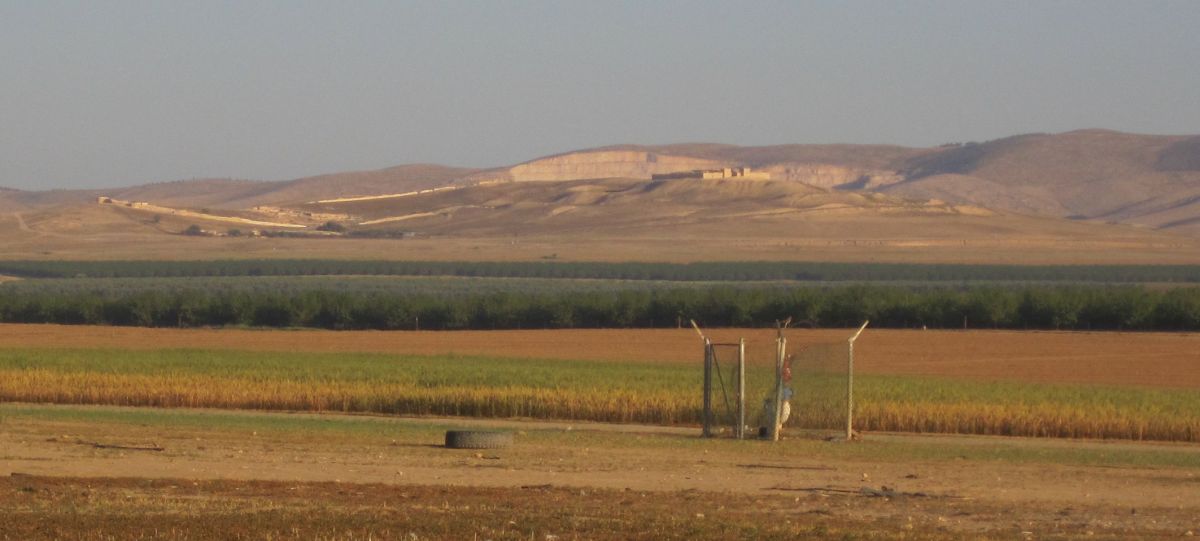 There were also vineyards which I think are part of the Yatir winery, and finally we walked past the rather stinky water treatment plant for the city of Arad. Clearly the water from the city, was being treated, and used for the agriculture in that area. Pretty nifty.
Then the trail veered away and went through a non-descript garbagey region heading towards Arad park where we hoped to have breakfast. We reached the park at 6am. It was a grove of irrigated trees with picnic tables, perfect for our breakfast of strong tea, and granola with long life milk.
From the park the trail was a bit hard to follow as it winded its way on various dirt roads to a wadi which leads directly and steeply up to the city. It was interesting that at the spot where the trail intersects with the wadi a Bedouin and his sons came by in a truck and took the very last stuff from what was clearly their last camp.
We now climbed up a narrow trail in the bottom of a ravine, and before 9am we walked into Arad. From there we caught the bus to Be'er Sheva in time to get the last train back to Haifa.