PLANNING our first hike in the desert
25May2011 Stashing Water
The southern part of the Israel Trail from Arad to Eilat crosses the Judean desert and then the Negev, without passing close to many settlements. Indeed the first easy place to get off the trail after leaving the city of Arad is a three night, four day hike. More preparation is necessary for these desert hikes, than is necessary for the northern section of the Israel Trail. The first challenge to consider is the water problem - it is impossible to carry enough water and there is almost no reliable water to be had along the way. The solution we choose was to stash water at key points on the trail before we hiked. We scrutinized the maps and found two places along each days hike where we could get to the trial with a vehicle. We bought several 12 packs of two litter bottles of water, and then on 25May we drove to the Arad area and spent the day stashing the bottles where we could find them, but others could not. Look at Jacob Saar's Guide to the Israel Trail for more information on stashing water.
We were aware that taking our dog, Taffy, with us on these desert hike would be a greater challenge: 1) because dogs don't sweat and are therefore not as efficient at staying cool as humans, and 2) because there are some ascents in the Judean Mountains which require climbing ladders and using staples in the cliffs – they are hard or impossible for a dog to navigate. To cope with the first problem I made a white sun coat and hat to keep the sun off of Taffy. To deal with the climbing problem I ordered, and practiced using, the DoubleBack harness made by Ruff Wear
especially designed to take your dog mountain climbing.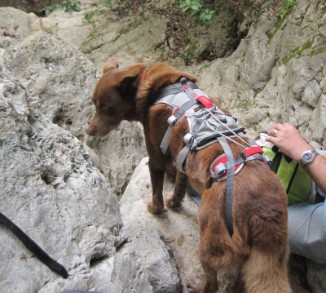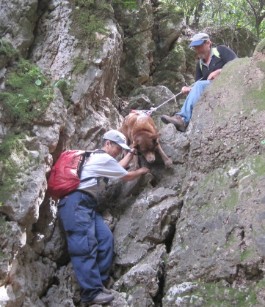 Wednesday 1June2011
We were delayed a week. The first of June is considered too late in the season to hike the desert, but we had already stashed the water, the weather report didn't show any approaching heat wave (except for the approaching summer) so "damn the torpedoes, full speed ahead!"
We took a very early train to Be'er Sheva caught the first bus from there to Arad and found ourselves picking up the Golan Stone at 8:30am. Instead of immediately starting on the trail, we treated ourselves to a café in the city since we'd left home without breakfast.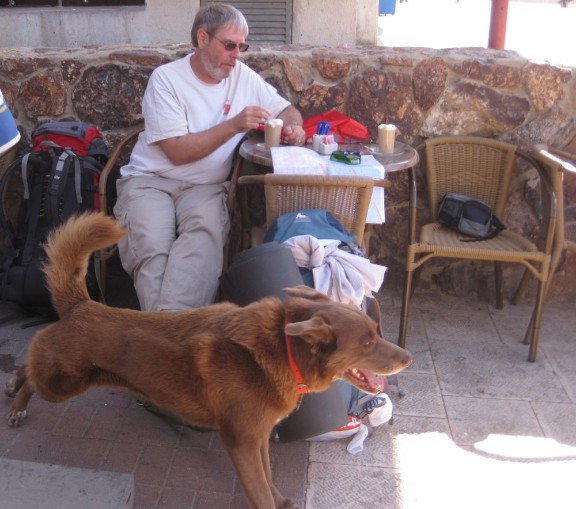 Then with all three of us dressed for the desert, we walked to the edge of town and started on the trail downhill and southeast below Route 31. It was not yet hot and the adventure was ahead of us. Nothing is like the feeling I get when I'm on the trail again. This is when I am happiest.
There were Hyrax (שפן הסלעים ) living in the wadi and many of the local black birds -Tristram's Grackles (טריסטרמית ) were singing their lovely, melancholy songs from the cliffs above us. There were many different kinds of plants growing in the wadi including the ubiquitous sage (Salvia sp.) ( מרווה ). There are eight different species of sage native to Israel, but I have not yet learned to distinguish them.
At 11am we passed the ruins of a cistern from Roman times and after messing around there for a few minutes we found a shaded overhang in the side of the valley where we rested and ate some of our trail treats. The temperature was cool in the shade, but the sun was already getting powerful. It was clear to us that shade was going to be almost as essential as water.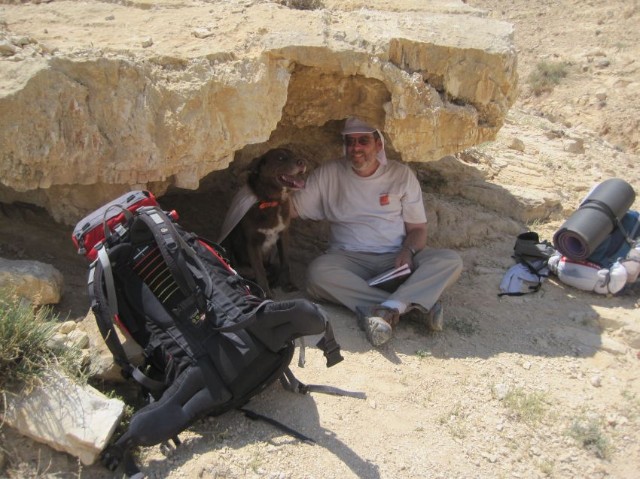 Shortly after our rest the trail turned towards the south and uphill away from Route 31. Ten minutes of steady climbing brought to a Roman outpost called Zohar Rujum (
רגם זהר
).
Why were the Romans in this desolate area?
Zohar Rujum might have been part of what is called "The limes of Palaestinae". Lime is a Latin word meaning frontier – the 'limes of Rome' were the various walls, castles and outposts that the Romans built to defend their extensive boarders. The limes Palaestinae were to keep the peace between unruly providences in the area that the Romans called Palaesinae.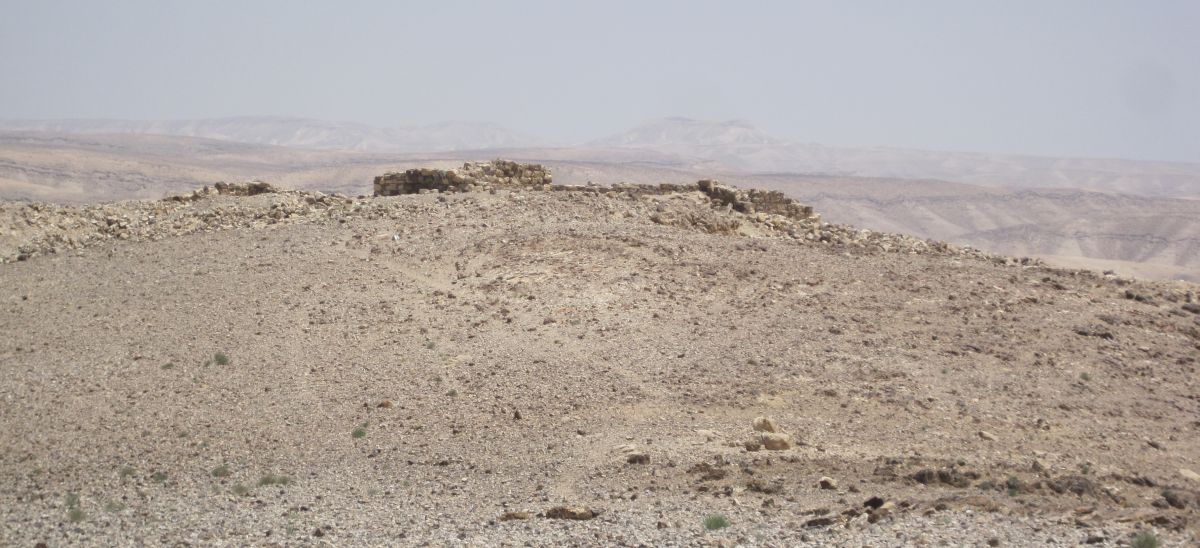 Another short climb brought us to a look out point which had a 360 degree view of the Judean desert. There was too much haze to see the dead sea, but it would have been visible on a clearer day. It was now 12 noon and the sun was intense. We used our sleeping pads to make shade for ourselves, and I put on the special hat I had made for Taffy. I'd been worried it would irritate him and we'd have problems keeping it on, but on the contrary, he acted relieved.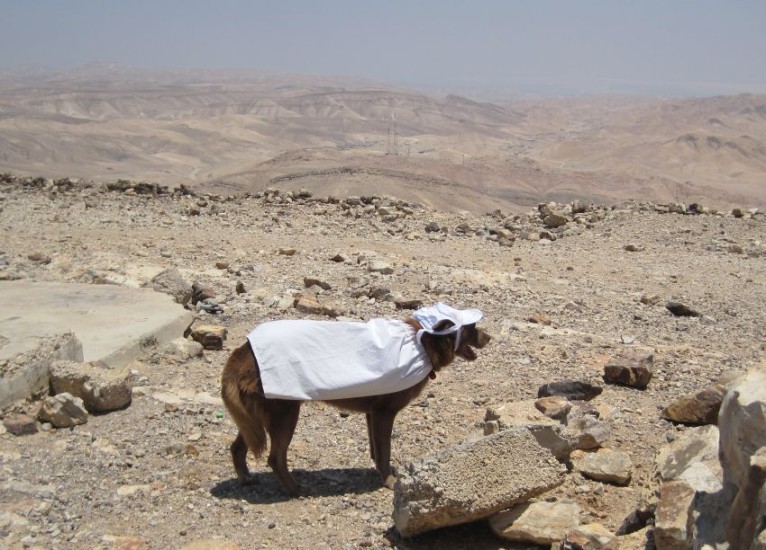 We were now walking on a dirt road and approaching our first stash of water. The closer we got to it, the more we worried it would be gone. It was there and untouched. We drank our fill, flattened our empty bottles, tied them to our packs, and then continued on dirt roads, past many Bedouin camps, for two hours of walking with hot sun directly over head. At around 2pm we passed the last Bedouin encampment and the beginning of the descent into Nachal Kanfan ( נחל כנפן ) We could see the gorge spread out in front of us, but we couldn't find the trail going into it. Finally after exhausting ourselves going back and forth we spotted a trail marker down below.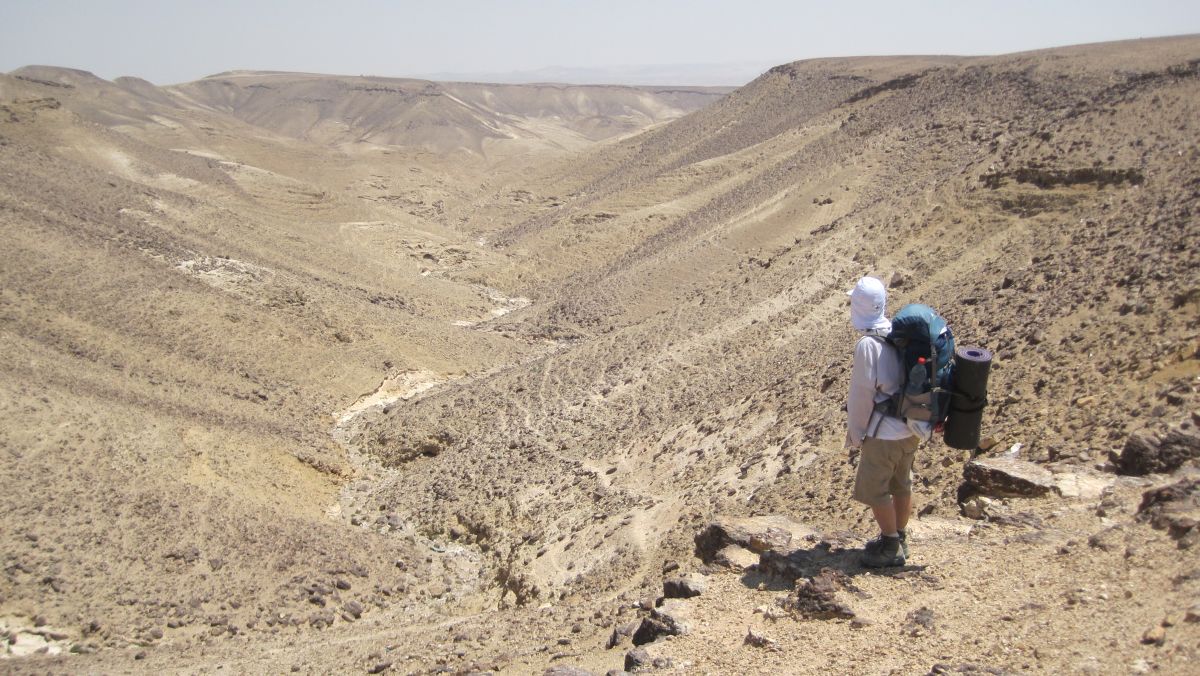 Immediately after we began the steep descent into the wadi we saw an over hanging ledge which provided ample shade and had a spectacular view. We happily took off our packs and our boots, and ate a leisurely lunch of thick, turkey sandwiches with corn chips, while looking down at the wilderness we were approaching.
It was 2:30pm when we finished lunch, which we thought gave us plenty of time, during the long days of June, to walk down the wadi to our next stash of water where we planned to camp for the night. There was hardly a path for the initial descent and we had to slip side our way down the loose rocks. As we got further down the wadi narrowed and after about an hour we were walking at the bottom of a steep valley with numerous shallow caves and overhangs on each side. We rested briefly in the shade. The sky became a deep dark blue, almost purple color which contrasted with the washed out pale color of the desert landscape.
Another half hour brought us to a narrow rock gully, curved by winter water. Sometimes we felt like we were walking in a cave. A person caught in this area during one of the notorious Judean Desert flash floods would have no where to go! There was so much Za'atar (Majorana syriaca (אזוב מצוי
) growing in these confined spaces that the delicious spicy aroma of the herb permeated the air. Za'atar is the Arab name for a native herb that many people think is the plant mentioned in the bible as hyssop. "Take a bunch of hyssop and dip it in the blood which is in the basin, and touch the lintel and the two doorposts with the blood which is in the basin." Exodus 12:22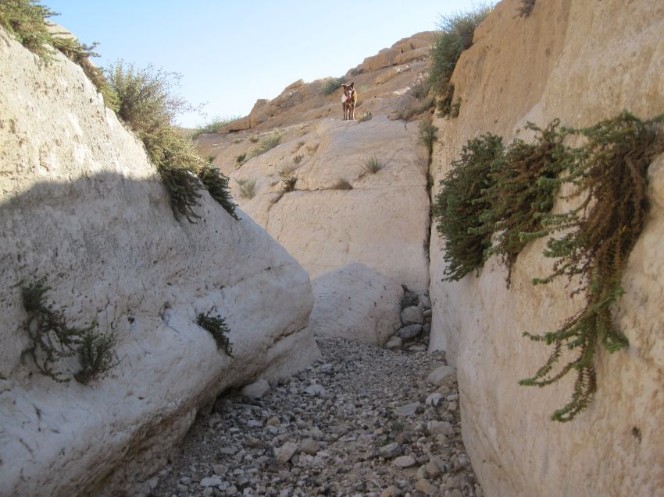 The wadi would widen in places, and then again narrow into furrows which were sometimes difficult to navigate. Our progress was much slower than we had expected. At 5:30 pm we were still winding our way through the narrow spaces and there was no sign of the blue trail joining us which would indicate that we had gotten half way to our stash. We began to worry that night or exhaustion would stop us before we reached our water, and we didn't have enough to easily make it through the night. We finally had to stop for a rest and a drink. Would Wadi Kanfan every end?
Less then five minutes from our resting point, it was now 6:30 pm, we reached the blue trail junction and though we still had a long hike ahead, we were much relieved to know exactly where we were. From this point the wadi widened, the walking was much easier, and so we made better time. Another hour and we saw a lone tree in the distance. This single tree is marked on the map; and it indicates a ruin and even possibly a spring near by, but the sun was now close to setting and we had no energy left to explore so we turned away from the tree, and walked the last lap to our water stash.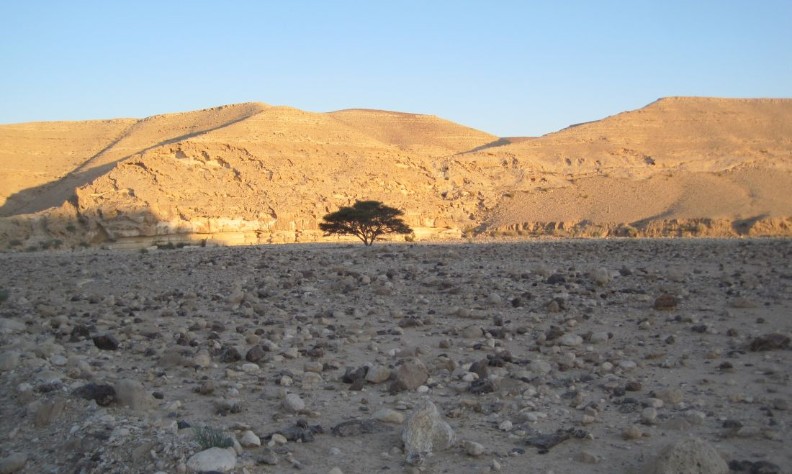 As we approached we passed a excellent place to camp under an over hang, on soft flat packed sand. We left our packs there, retrieved the water which was about 5 minutes further along, and were able to set up camp before complete darkness. We had purposely stashed enough water so we could use some of it to wash up. Then we changed into clean night clothes, and much refreshed, we ate our camp dinner. When we went to sleep the milky way was blazing over head and so many stars were visible they made the sky look strange, as if we were on a different planet. It felt like a different planet.
Now, in the luxury of my living room, I wish we had checked out that lone tree.
2June2011 Thursday
The next morning we were already on the trail when the light was beginning to touch the eastern sky. It was an easy two kilometer walk out of the wadi, past a dormant quarry to reach Route 258. There were several road working vehicles gathering there, getting ready to repave that section of road, so we gave them our empty bottles and garbage. Then we crossed the road and continued on a dirt road heading east. The trail soon left the dirt road and took a short cut over a mountain. We climbed to the top with temperatures lovely and cool, soon the sun painted the barren hills in pink,. Don saw a fox (
שועל
probably Vulpes vulpes, the common red fox) in the distance, but it vanished before we could take it's picture.


We reached the top at about 6:30 am and decided to stop there for breakfast. Overlooking most of the days hike ahead of us, we brewed our hot strong tea and enjoyed hard boiled eggs with pepper and salt, and granola with milk. We never skimp on breakfast!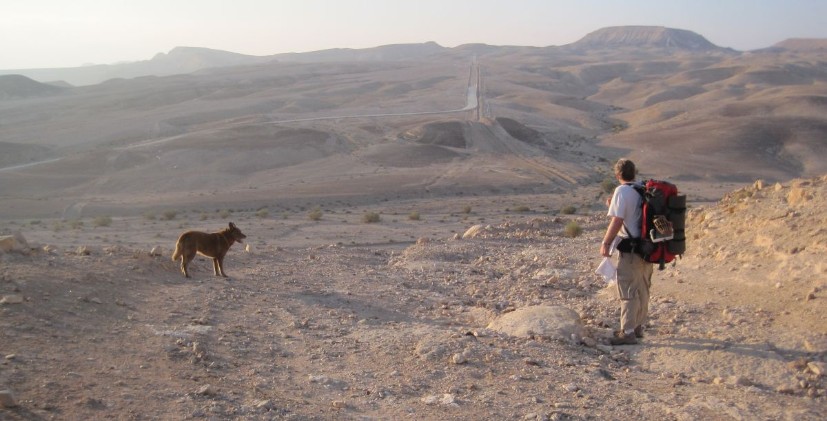 Towards the west there was a thick bank of clouds which looked like it was coming our way. We fantasized about a cloudy day, but the clouds stayed out west and left us to walk in the sun. The trail returned to the dirt road, and then turned off towards the south. It was only 8:30 when we reached our intermediate stash of water. We took the opportunity to wash our hair which felt amazingly refreshing. While we rested a group of 4x4s and dirt bikes came roaring by. They had some trouble getting over a hill in the distance and so we had to listen to their engines for quite some time before they finally disappeared.
We were now hiking on a path that was almost a dirt road, but not quit. It went up and down two steep hills.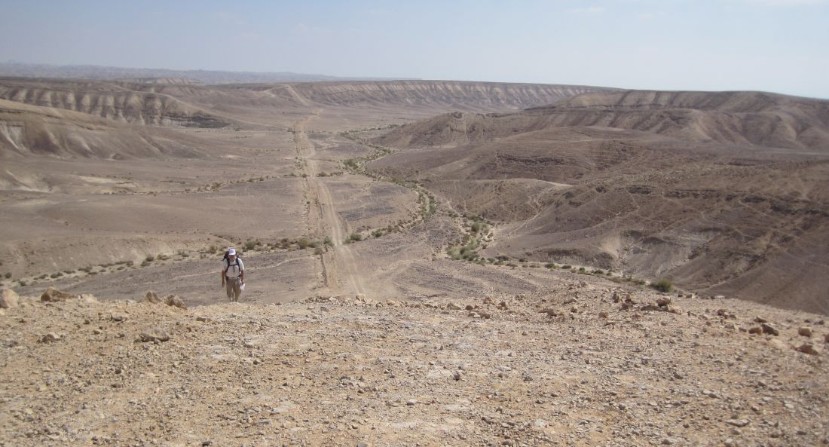 Then we found ourselves traversing the most barren country I've seen so far. It was flat with no vegetation, just an endless expanse of dark tan flint stones on lighter colored substrate. Far in the distance you could make out stark white hills which were the piles of potash from the Dead Seas works.

The sun beat down on us, where would we find shade so we could have a rest? Shade was the recurrent theme of this hike and there is no question that on our next desert hike we will carry some kind of shelter that we can easily erect, which will provide us man made protection from the sun. Thank goodness even in this wasteland, there were occasional gullies where small bushes grew. We used our sleeping pads and these bushes to make ourselves at least a little bit of shade.
As we walked we saw, in the distance, a line from east to west crossing our path. It turned out to be the Dead Sea Works conveyer belt. A remarkable engineering feat going from the Dead Sea to the processing plant.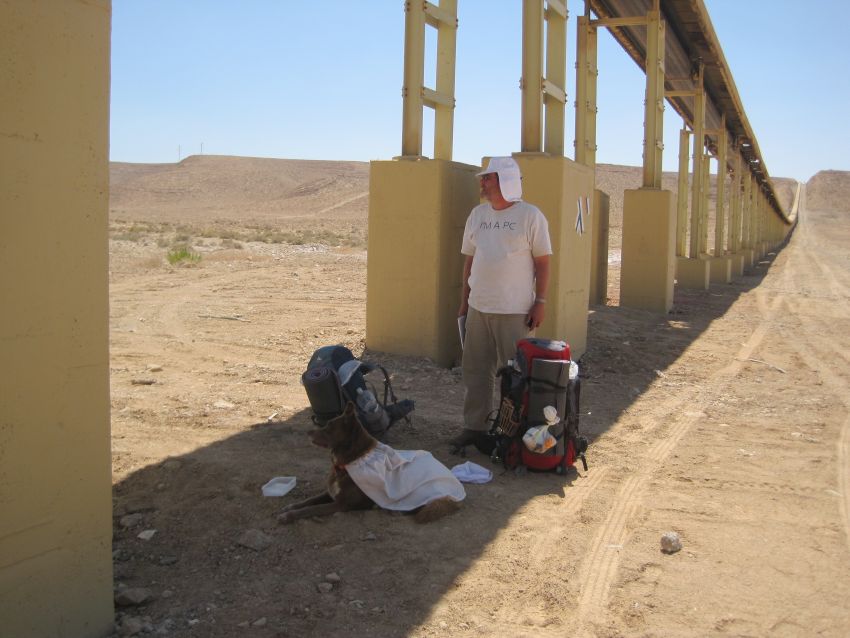 We reached it, and the delightful shade it provided, at about 1pm – completely exhausted. We were relieved that the apparatus was not operating and therefore the spot was quiet and restful. As we dozed, the midday sun passed by. We thought that maybe the whole conveyer belt was no longer working, since there were numerous holes in the covering. After an hour of dozing we took out our salami and pita and made ourselves lunch while we chatted. Finally closer to 3 than 2 we got up to start again. The minute we had our packs on our backs there was a loud clanking sound and the conveyer belt started, so it was still working. It felt like they had turned it off just for our convenience.
We were now quite close to our next stash of water and an official camp site near Route 25. We found the water with no problem, but we didn't want to stay at the camp site. First of all it was too early to stop, but mostly the place was just horrible. It was near a mining operation, right on the road with all the road noise, and full of garbage. The problem was that the next part of the hike went into a large nature reserve where people are officially not allowed to camp. Thus far on the Israel trail we have managed to avoid camping strictly in a nature reserve, though there were several times we camped on the edges. This time we decided to continue, nevertheless, though I don't advise this in general. We were hiking off season and there was literally no one else on the trails, so we were unlikely to get caught by the vigilant park rangers, and we understood exactly how to conduct ourselves so that we would not do any harm: 1) there was only two of us, 2) we were meticulous in our clean up taking out much MORE garbage than we brought in, and 3) we made sure to not camp in any area that was sensitive for wildlife where our presence might interfere in their lives.
With some feelings of guilt, we crossed Route 25 and walked into the Judean Desert Nature Reserve which surrounds the Machtesh HaKatan (the small crater). The trail went up for about a Kilometer and then we walking on a plateau with nothing but desolate wilderness in all directions. Except in the distance everything was still flat. About 40 minutes from the road the trail started to descend into Nachal Zafit ( נחל צפית ). It felt like we had left behind a two dimensional world of endless flatness and come back to topography!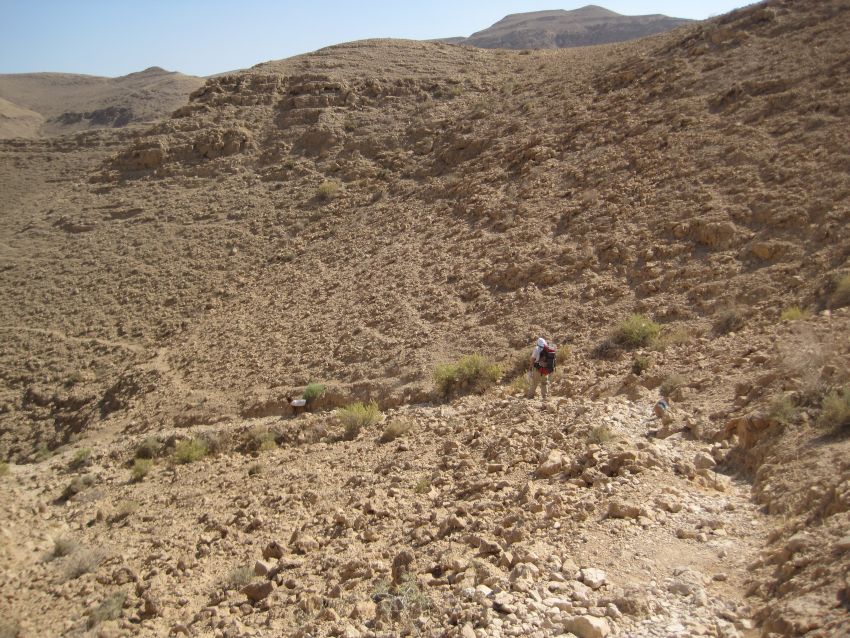 Soon we were climbing steeply down into a gorge and by 4:45 pm, about an hour and half after we crossed Route 25 we reached the bottom of Zafit, where the Israel Trail crosses the black trail which goes in the wadi. The steep cliffs were making lots of shade and the bottom was flat. We decided we had found the perfect place to stay. We took off our packs and rested while we studied the map. Don pointed out a spring indicated about a kilometer up the black trail from where we were. Just because there is a spring marked on the map doesn't mean there will be water in it, but it was still early so we decided to leave our packs behind and check it out.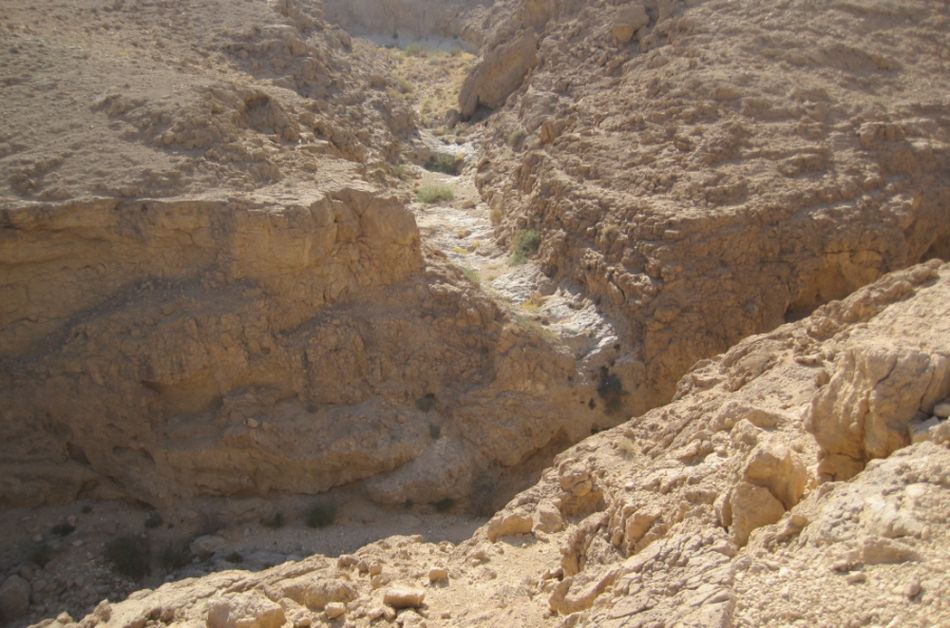 We scrambled up the narrow wadi noting that there was more vegetation down here than we had seen since the za'atar plants of Wadi Kanfan. And then right there, like magic, and against all common sense in such dryness, was a beautiful shallow pond of clear water. I don't know how to put into words what it was like to see water there in that desert. Taffy waded in and drank his fill while we washed away all the grime, and sweat, and dust, and heat, and exhaustion in the cool water.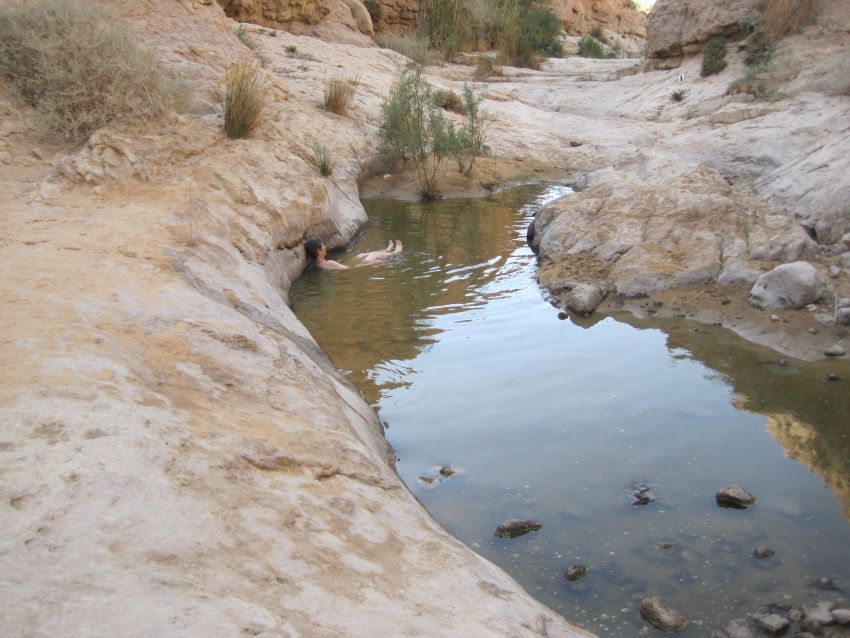 The pond had hijacked our sight, and it was only after relaxing in the water for 10 minutes that we realized we were in the first and shallowest of several ponds. We got out and walked a few more meters up past another shallow pond, and there was the source of the water - a spring so deep we couldn't feel the bottom no matter how hard we tried to get down. This water there was ice cold, and soon I was shivering and had to get out, but Don stayed in for a long time, and made several concerted efforts to reach the bottom, to no avail.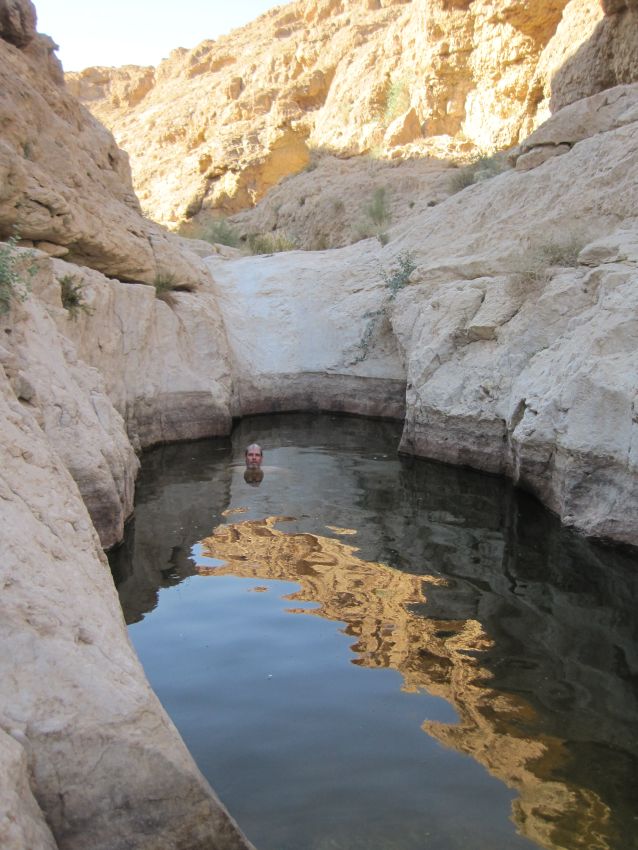 Some time after we finish hiking the Israel Trail I would like to go back to that spring. I would get there in the morning, and spend a whole day enjoying the amazing contrast between the heat of the desert and the cold of that water. But we saw the hoof prints of mountain goats near the water, and there were swallows swooping by and drinking the whole time we were there. This was one of those places where our presence in the evening or at night would prevent the wildlife from the life giving water.
We left the wild ones to their paradise.
We were worried about getting Taffy up and down cliffs with the double back harness, so we decided to use the extra time we had to see if it would be possible to attach the harness to Don's backpack and then have Don carry the dog on his back. We tried this several times, but if Taffy struggled even just little bit, it would throw Don off balance. I decided NO WAY!
We ate dinner with the cliffs around us turning orange. There was no sign of human habitation, no artificial light of any kind, and there was no moon, so when night fell the darkness was profound. Again the stars with the whole milky way blazed overhead. I had trouble falling asleep, so I watched the sky. Two satellites made their way across the heavens, my friend the big dipper circled until it disappeared behind the cliffs. I drifted off eventually.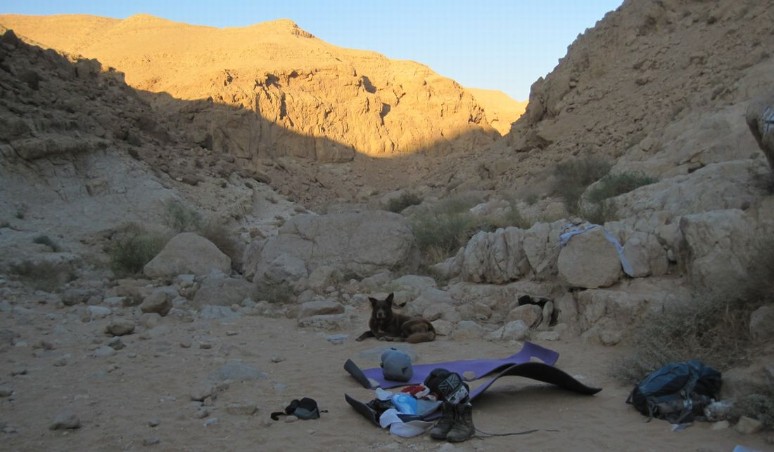 3July2011 Friday
The climb out of Wadi Zafit looked tricky, so we waited until there was real light before we started up. There was barely a trail, as we scrambled up over the rocks, from one trail mark to the next.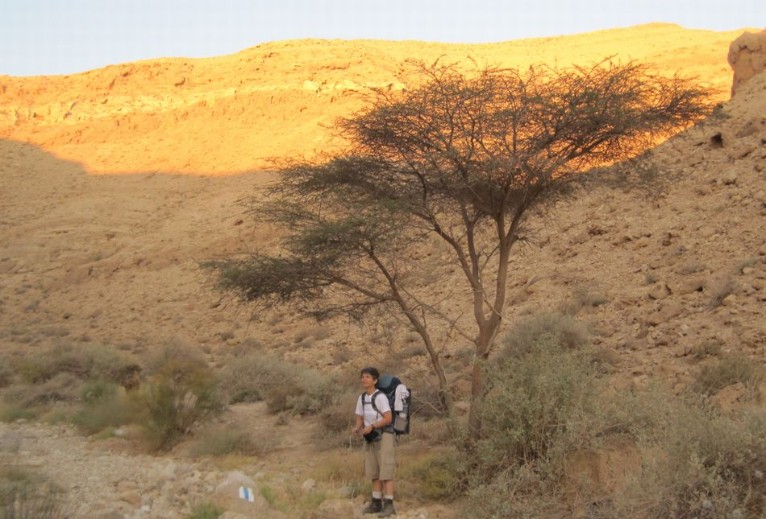 Soon the sun lit up the mountains around us and turned them a vivid pink. Birds were singing, at first I couldn't see them, but then I spotted the adorable black and white Mourning Wheatears (Oenanthe lugens) ( סלעית לבנת כנף ) singing their hearts out.
At about 6:30am after more than an hour of walking we stepped out of the shade of the canyon and into the morning sun. It was now relatively flat wilderness, with amazing views in all directions. Another twenty minutes and we could see the Machtesh HaKatan ( מחתש הקטן ) spread out ahead of us. We walked up to the cliffs where the views were so extraordinary they defy description. I couldn't stop looking and took one picture after another.
The Machteshim (craters is the literal translation from the Hebrew) are actually a rare geological phenomenon more properly called erosion cirques. This Machtesh HaKatan was unknown - not on any maps -until 1942 when it was discovered accidently by a group of Jewish new immigrants on a hiking tour. Even their Bedouin guide had never seen the place.
We found a nook near the cliff where we sat with our backs against a boulder, looking straight down the almost 500 meter cliffs, while we enjoyed our typical camp breakfast. It was 8 in the morning when we started down Ma'ale Hatzira (מעלה חצרה ). The descent started as a dirt road, which is supposedly ancient, though I have found nothing that describes who built it or why. The road soon gave way to a narrow but not difficult path that wound its way down.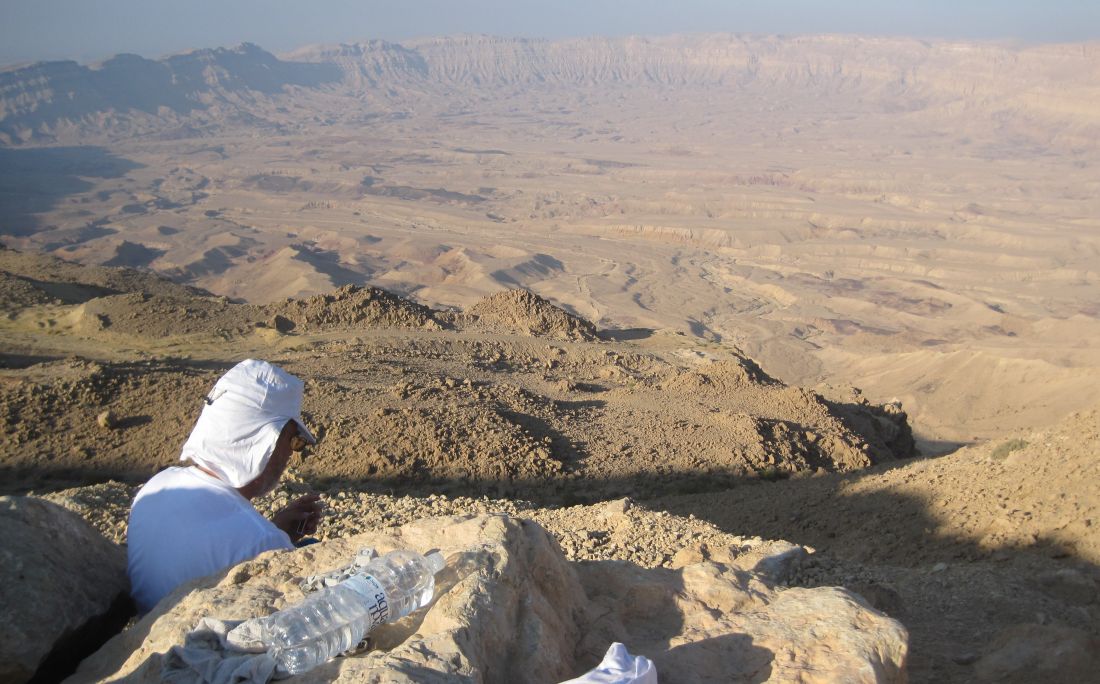 Two hikers passed us coming up the opposite direction. We saw these two and only one other hiker on the trails for the whole 4 days of our hike.
We took a short rest in the shade half way down and then continued into the strange unworldly crater. The closer we got to the bottom the stranger it appeared. There were different oxidized metals making layers of different colors, predominantly yellow and a metallic red purple color. The bottom was anything but flat. It was full of contorted oddly shaped and strangely colored protuberances, with steep sided gullies winding their way through them. It would be easy to get lost in the "maze of twisty little passages, all different". Before descending right to the bottom, we detoured off the path and spent some time exploring the top of one of these protuberances. The ground on the top was soft and our feet left imprints on the soft substrate, there were different types of rocks imbedded, many of them beautiful crystals.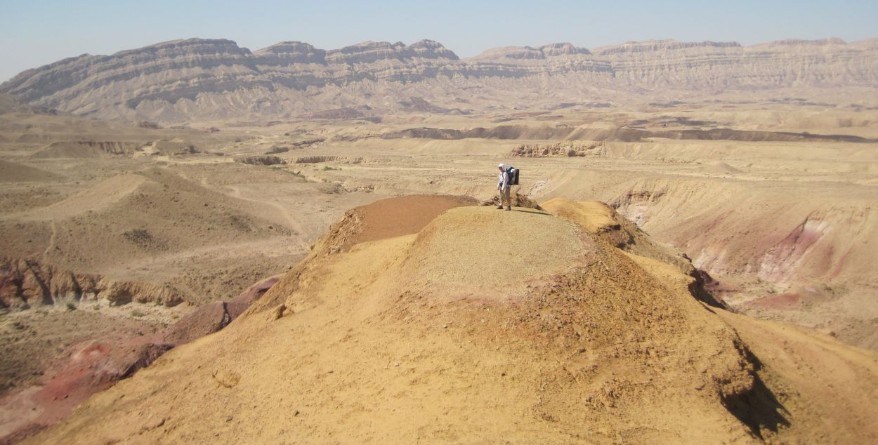 It took us another 45 minutes to reach the gap in the crater where we had left that days water stash. We found an overhang, drank to our hearts content, and ate a small snack, but neither one of us was hungry so we didn't eat much.
It was close to 11am when we started again. We now had to cross the crater to the western side where Ma'ale Eli ( מעלה עלי) was waiting for us. The trail started as a wide easy way, this led into a wadi with short cliffs on either side. We soon lost the trail markers, and had to retrace our steps to where the trail had veered to the right into a different wadi.
In the cooler seasons teenagers on school trips, from all over Israel, climb down Ma'ale Eli, walk across the crater, go through the gap, and get picked up outside, so the trail is well travelled. The soft limestone cliffs were full of carved names of the kids who had walked by.

However, on that June day near noon, with the sun beating down on us unrelentingly, we were alone. The heat started to effect our judgment and we lost the trail several times when we shouldn't have. The whole process of finding it again added to our exhaustion.
When we saw a wonderful shade giving tree we stopped, drank deeply, and tried to recover. We should have stayed there, eaten a hearty lunch, dozed to our hearts content, and only proceeded in the evening. But we were both apprehensive about the climb up Ma'ale Eli. We'd heard that it was strenuous, scary, and that we would probably have to use our special dog harness to help Taffy climb up. For all these reasons we thought the climb might take a lot of time and we didn't want to get caught still on the cliffs after sun set. Feeling pressured for time we set out again without eating anything.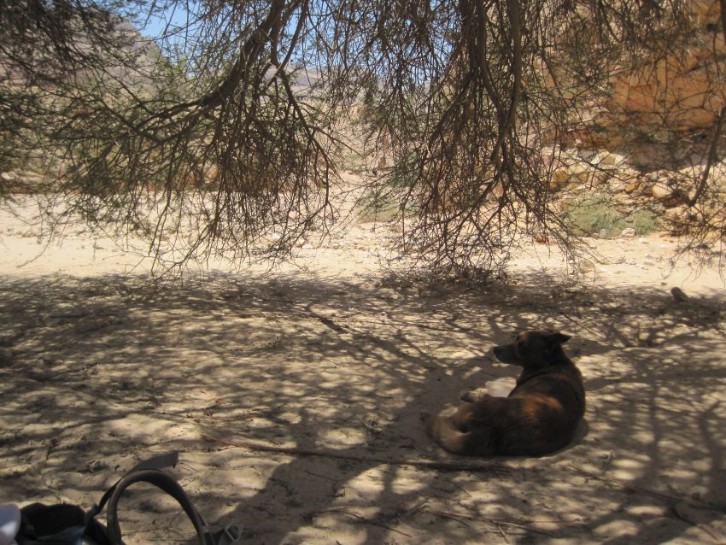 It was 12:30pm when we left the tree. After about half an hour the trail rose out of the gully and we were once again walking on flat terrain with no vegetation and no topography. We arrived at the beginning of Eli at 2:30pm and were unable to find a staging area with any shade where we could rest before we started up. The heat and the strength of the sun were crushing and I felt frantic to get out of it. I think we were close to having heat stroke in spite of drinking as much as we could. Everything irritated me and I lost my temper with Don as he tried to use our pads to make shelter. Taffy got some shade, but it wasn't effective for either of us. Looking up at Ma'ale Eli it appeared that there was an area after the first slope which was shaded, so we decided to start climbing with out resting. There wasn't much choice.
The first part of Eli is just a steep path up a gravely trail, not particularly hard, but Don lagged behind, and I realized that he wasn't feeling well.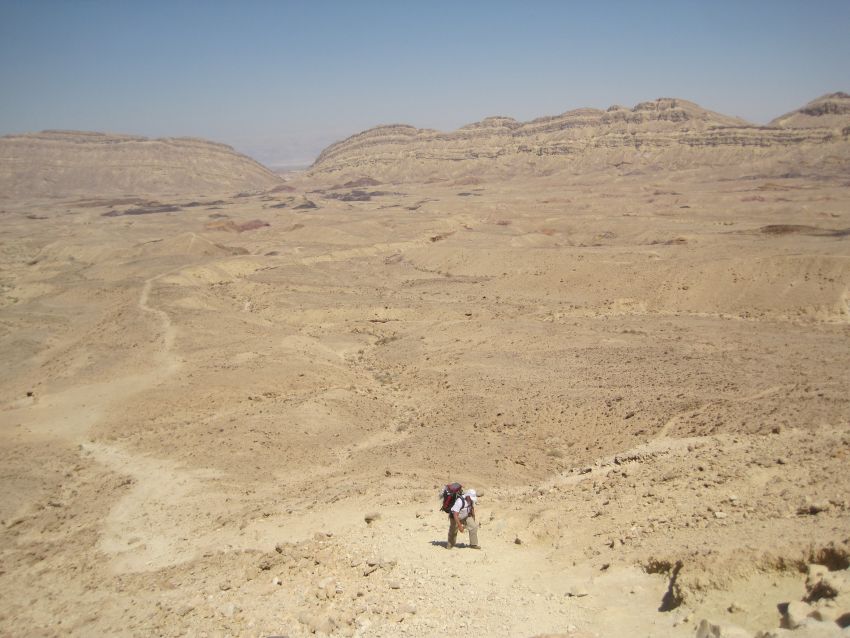 We reached the area where we had thought it was shaded, but the shade turned out to be inaccessible so we continued up and reached a lip with a precipice going straight down about 100 meters on each side. There was a rail installed to hold on to, so it wasn't difficult for humans, but when I watched Taffy trot across it, my heart practically stopped beating. From that point on I was terrified.
On the other side of the lip there was a small precarious, shaded area where we stopped and drank and tried to rest, but I couldn't get myself to relax. Every time Taffy moved I fought panic. Dogs, with their four legs, are incredibly stable, they don't trip off of cliffs, and if you have ever watched a dog, they are practically indifferent to heights unless they can't navigate the climb. I wasn't reacting rationally and I knew it, but I couldn't get myself to calm down, and soon my fear affected my stomach and that was no fun up there on the cliffs.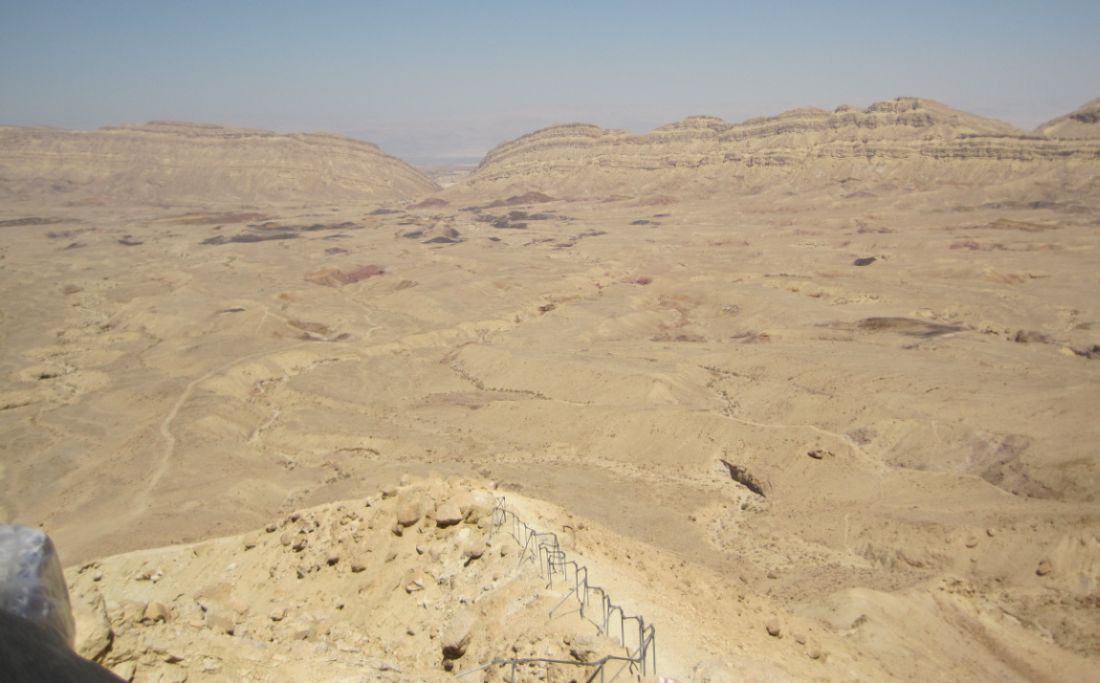 The climb continued steeply up with areas where one missed step and you would plummet hundreds of meters down, but there was always something to hold on to.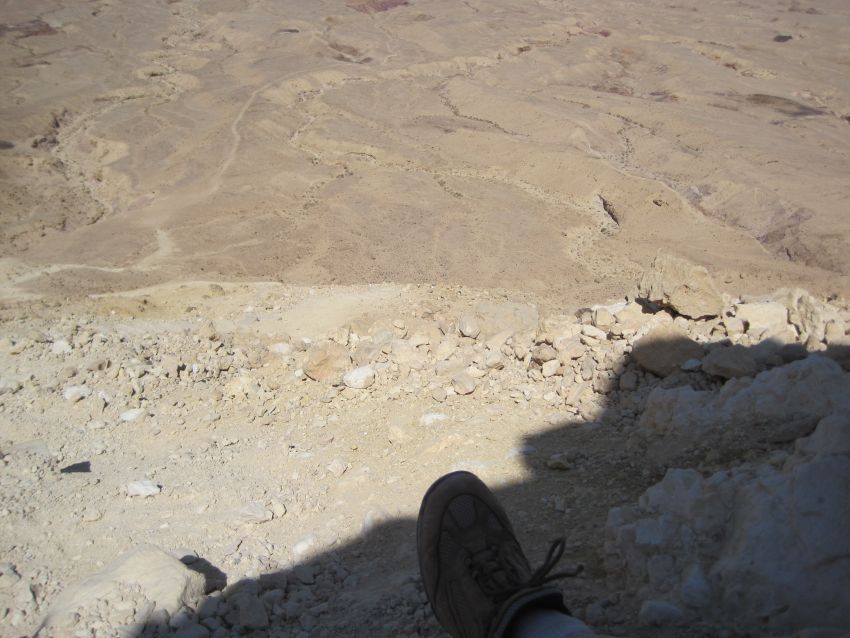 Several places had staples in the rocks, but it was still easy enough for Taffy to climb without the harness. An hour and a half after we started Eli we reached a very wide ledge, completely shaded in the 4pm afternoon. It was wide enough that you couldn't see over the edge and didn't feel the height. We were about three fourths of the way up though there seemed to be a difficult area at the very top. We stopped, took off our packs, and Don promptly went to sleep. After about 30 minutes we decided to continue the last leg and see what was in store. We didn't feel hunger so we didn't eat.
The whole side of the cliff was now shaded, and without that pounding sun I was feeling much better and calmer, but Don was struggling. He told me he was feeling weak, lightheaded and that it was hard for him to put one foot in front of another. It was only then at the very end of the Eli Ascent that it dawned on me that neither one of us had eaten anything since the tiny snack after breakfast. I tried to get Don to eat an energy bar, but he refused saying he was nauseous.
We got to the cliffs at the top, and there was a short area that we had to climb with the help of staples, but it wasn't difficult, and Taffy had no problem at all scrabbling to the top.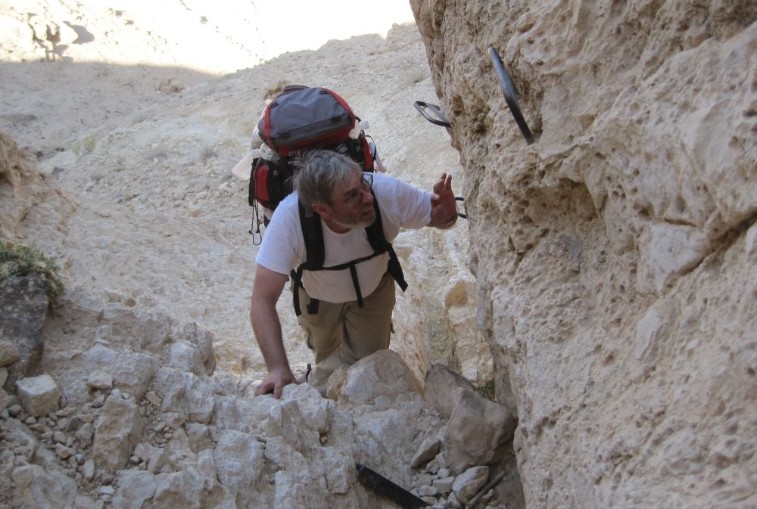 At 5pm we pulled ourselves up over the cliffs and there we were on to the top of Eli. We had made it. We yelled out a huge cry of relief.
But our troubles weren't over. We had been counting on a nice area at the top where we could finally rest and eat before we continued the last 4 or 5 kilometers to our next water stash and the place we planned to camp, but instead we found literally nothing. There was a gravel parking lot type of place with a dirt road heading down – no trees, no shelter, no nothing - and to make it even more disappointing we were back in the sun. It was impossible to rest there. The next 4 kilometers were the worst part of the Israel Trail so far. Don was exhausted and nauseous. He knew theoretically that eating something would help him, but it was hard to get him to even take a bite while we were in that hot sun. He walked because he had to, but it was horrible.
As we approached the small dirt road where our stash of water was hidden, there was a car parked. Taffy ran up to the car, and jumped up next to the door. He was convinced we were finished with hiking. After all it had already been the standard three days two nights! But this time we were hiking another day. On we went.
The misery finally ended. We found a bush giving plenty of evening shade, ate an energy bar each, drank the rest of our water, and rested. And then when the sun was almost below the horizon, we walked the last kilometer along the road, retrieved our water, and made a quick camp before darkness.
It was Friday evening, the beginning of Shabbat. I had meant to bring candles and a little bottle of wine so we could at least mark the Sabbath, but I'd forgotten. We ate (finally) our regular camp dinner and went straight into our sleeping bags, but I couldn't sleep. I tried to remember the last time that I hadn't celebrated Shabbat and I couldn't. Certainly there had been times, but they were before our kids were born. It felt wrong. I promised myself that we'd never hike into the Sabbath again.
Saturday 4June2011
The next morning we started before dawn. Everything was fine. Don felt well, the hiking was easy, and like always, the morning in the desert was cool and lovely.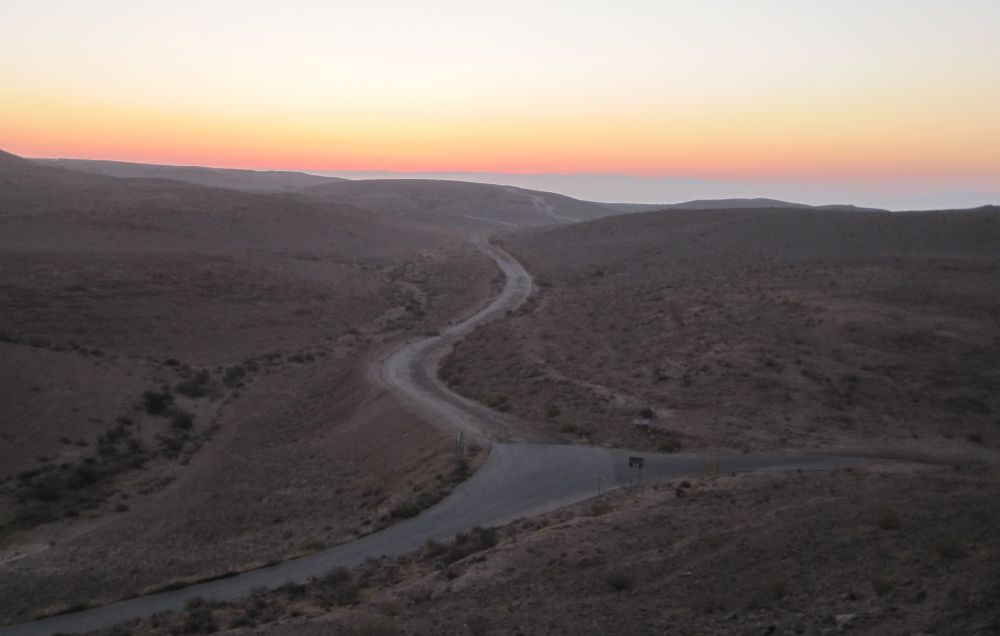 We walked on the crater access road until it reached Route 227. This road goes down the Scorpion Ascent (מעלה עקרבים ) towards Eilat. It was build by the IDF Engineering corps in 1948 during the war of independence. For a long time the road was not maintained and finally became impassable, but in 2009 the Society for the Protection of Nature in Israel managed to procure the funds to repair the road and it is once again functioning.
The Israel Trail crosses Rt. 227 before it starts down and continues as a narrow westward path directly towards the Machtesh HaGadol (מחתש הגדול ). We walked up and down hills as the day dawned. At about 6:30am we reached a high point and stopped there for breakfast with views in all directions.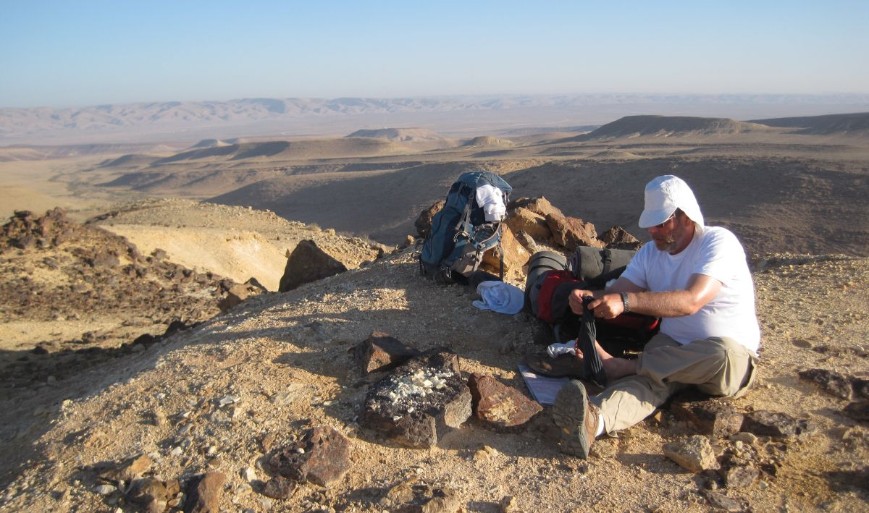 The cliffs outlining the big crater, Machtesh HaGadol, were clear towards the west, towards the north there was a single mountain that looked like a huge fortress, towards the east, on a clear day, we might have seen the Edom mountains in Jordan, but the raising sun was too blinding to see anything in that direction.
At about 7am we continued walking along the ridge directly west, with the sun behind so that our shadows moved ahead of us. A brilliant yellow flower improbably grew on the side of the path alone amongst the flint rocks. Soon we reached Meizad Zafir (
מצד צפיר
), another one of the Roman outposts that defined the Limes of Palaestinae. I sat on one of the walls and wondered what it must have been like to be a Roman assigned there - couldn't have been much fun.
A while after that brief stop we heard the distinctive sound of hoofs clambering on rocks, and saw a male Nubian ibex (Capra ibex nubiana, יעל ) with huge horns, making its way to the top of the next ridge over. When it reached the top it stopped and looked at us for several minutes while we looked at him silhouetted by the blue sky.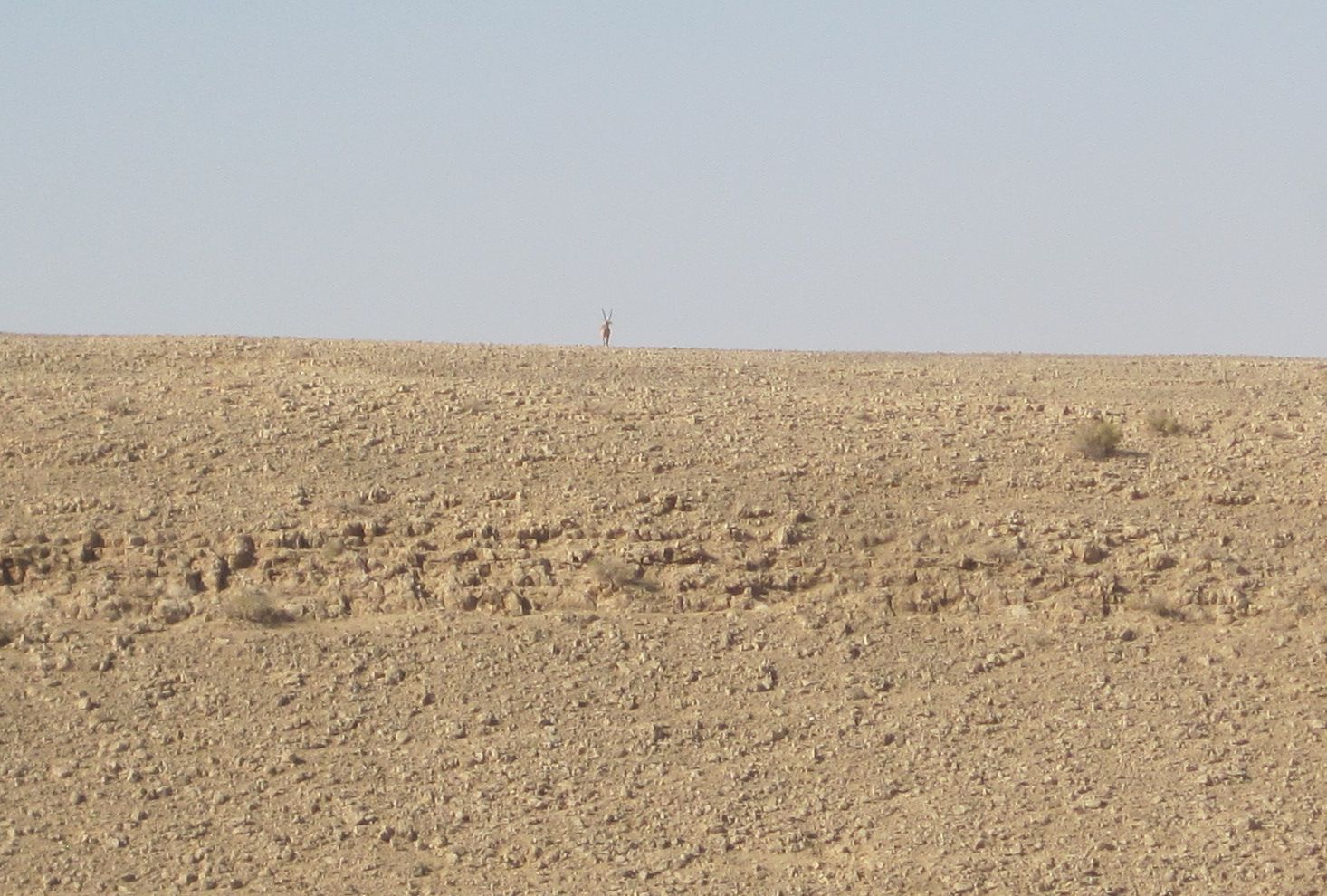 It was already starting to get hot, and I put on Taffy's white sun coat. At 9am we found an overhang with a perfect place to sit under it and we rested there and made sure to snack on our dried fruit and chocolate. We knew that the huge challenge on this day would be Ma'ale Palmach ( מעלה פלמ"ח) with its 10 meter ladder and cliffs, and we were determined to manage this difficult ascent without starving ourselves or getting heat stroke.
It was hard to read the map and get an idea of where we were going because there are so many mountains and cliffs in the area where we were hiking. For example, we saw on the map a pass called Ma'ale Yamin, but that gave us no hint of the place we were approaching. We walked on the side of a shallow wadi, met the green trail coming from the north and at about 10 am we walked on to a flat stone plateau that ended in an abrupt cliff going straight down 200 meters. The plateau had cracks which were about half a meter to a meter wide and so deep it seemed they didn't end. The very idea of falling down into one of them made me sick, but they were also mesmerizing.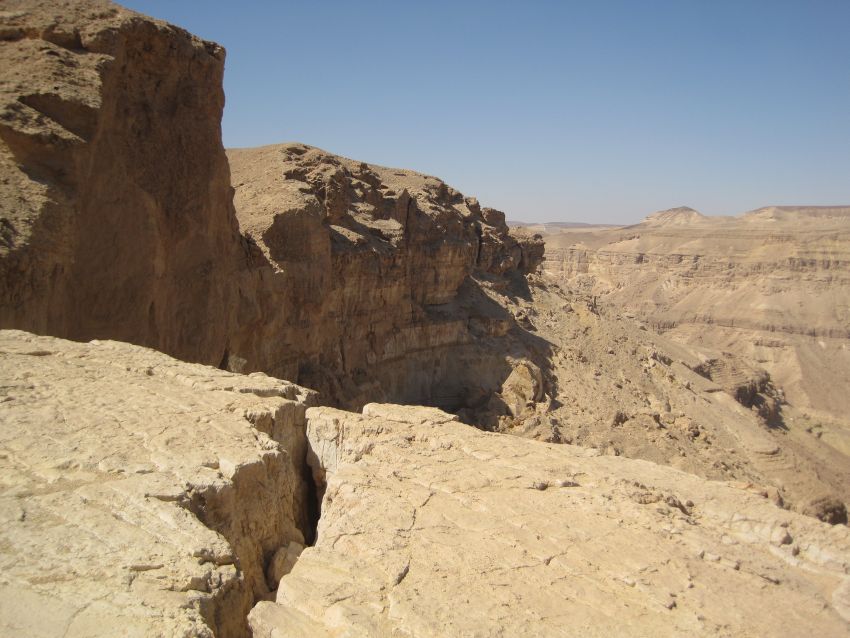 We took off our packs and I kept creeping up to the cracks and trying to get a picture that would do them justice. The place was so beautiful and unexpected. The grandeur of the cliffs and the wadi below were like a postcard from the grand canyon, it felt inconceivable that we'd never heard of it.
While we were looking around, a young woman appeared from around the path. She was wearing a hat with a scarf tucked in it which she could wrap around her face, a light long sleeved shirt, loose shorts, good hiking boots, and a small day pack. She didn't say anything to us though she was clearly unpleasantly surprised to find people there. She stopped for a few minutes, wrote some quick notes in a book she had with her, and then with barely a word she continued down the path into Wadi Yamin and was soon out of sight. She was probably involved in some kind of study, but we'll never know. I wish I'd taken a picture of her because she was beautiful.
It took about an hour of walking carefully before we reached the bottom of the wadi.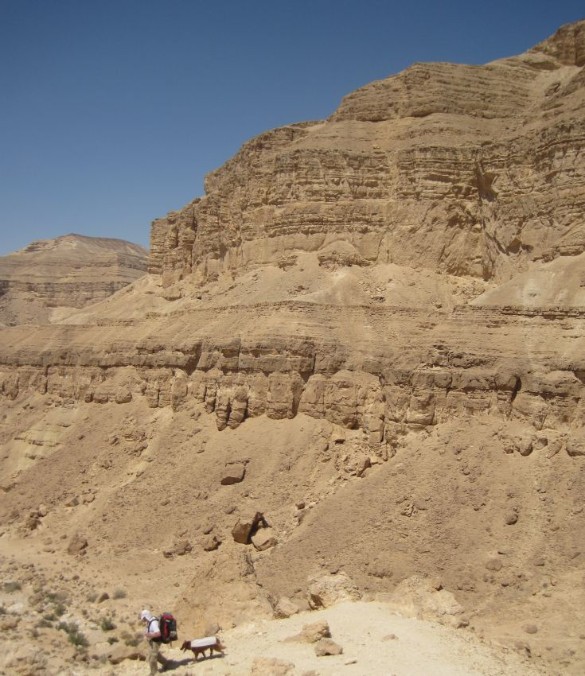 When we reached the bottom you could see where the wadi started towards the east, in a dry waterfall that must be extraordinary when there is water running over it. The wadi was dotted with lots of vegetation including many Acacia trees providing shade when ever needed. There were also huge boulders that had fallen down off the cliffs in some age before and numerous overhangs in the cliffs themselves, so shade was not a problem.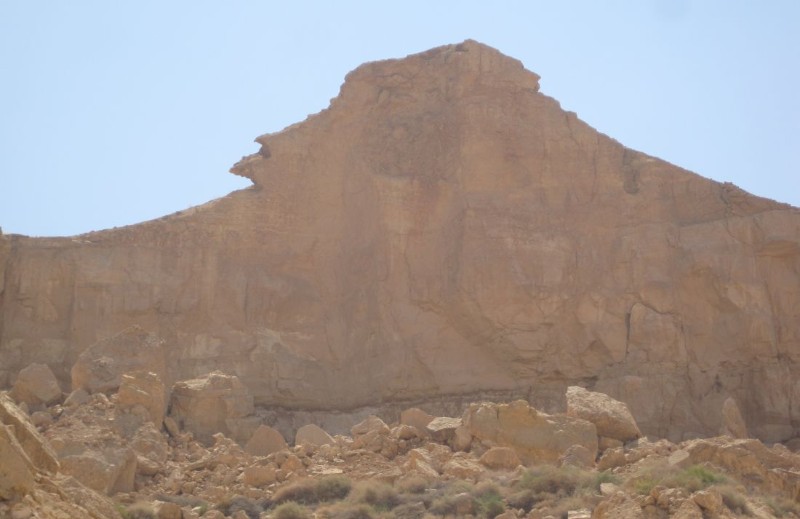 Nevertheless the heat was extreme, it was like hiking in a sauna. I thought of the girl with scarf over her face, and
fashioned
something similar for myself which actually was a great help. And if the cloth was damp, for the short time before it dried the evaporating water acted like air conditioning. This is definitely a useful trick if you have enough water to spare.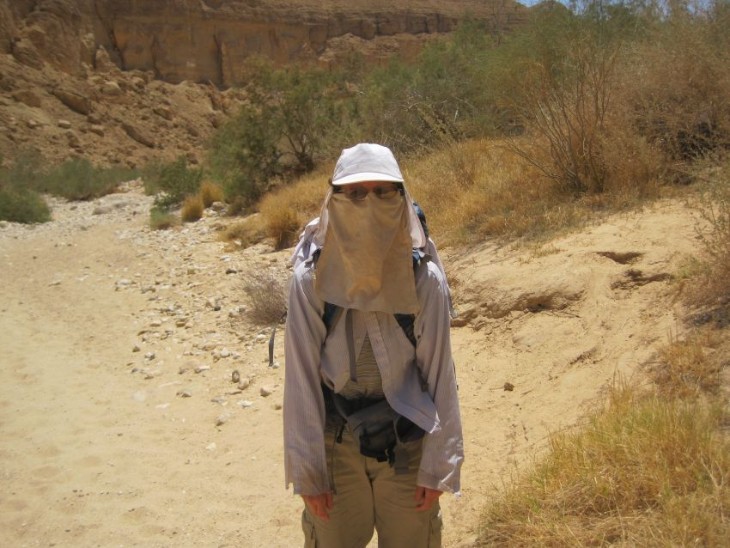 At around 12 noon, we were close the other end of Wadi Yamin where we would need to climb Palmach to get out. We found an extremely deep overhang where we rested for about an hour. Then we ate our lunch. The pita we'd brought had turned bad, so we ate our salami with corn chips, in fact a very tasty combination. We also had an orange each, dried fruit, and energy bars.
Ma'ale Palmach is only about 3 kilometers away from Route 206 where we were planning to end our hike. We wanted to get to the road before 4pm in order to have time to hitch to Rt 25, and catch the last bus that would take us home, otherwise Ben would have to drive all the way there to pick us up. (While planning this hike we had found out that the busses to and from Eilat run every day including on Shabbat.)
Feeling rested and ready, we left the overhang and walked into the extreme heat. After about 10 minutes I noticed what looked like a zigzagging goat path that seemed to disappear into the cliffs ahead, and I joked with Don saying, "Hey look there's the Palmach ascent!", Don didn't laugh, because what looked basically impossible for humans, in fact, was the Palmach ascent. We had to be able to climb it, because the only other way out was the way we had come, and we didn't have enough water to survive the return trip.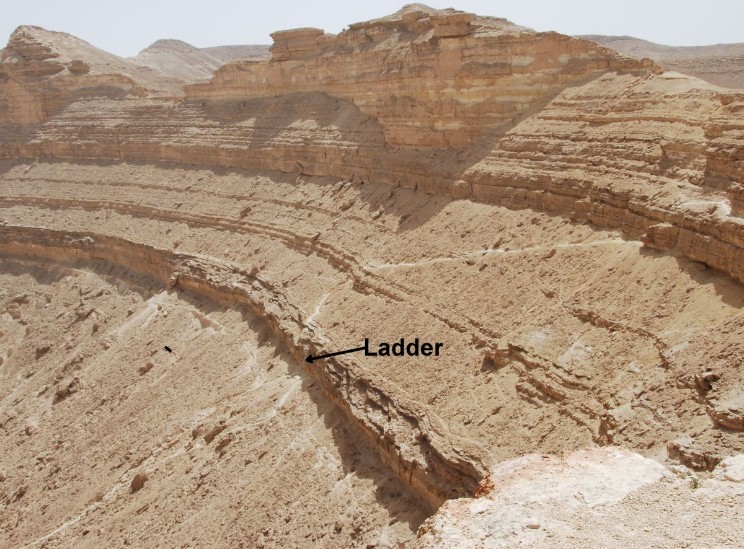 There was an Acacia tree right before the beginning of the ascent, so we stopped briefly in the shade, drank some water, and started up. The initial section of the climb was a steep path on gravel with occasional boulders. It took about 10 minutes to walk up this, sometimes more or less on all fours, and to reach the cliff where there was a ladder going up about 10 meters. Luckily the area right in front of the ladder was flat and shaded, so it was a good place to deal with the problem of getting Taffy up.
Don climbed up the ladder, took out the rope and tied off the proper length. Meanwhile I took off my pack, and put Taffy in the Ruff Wear Double Back harness. Taffy saw that Don was up the ladder, he understood we had to go that way, and he knew he couldn't do it. He became extremely agitated, shaking and whining, and that didn't help my stress level.
With Don on the top and me below we assessed the situation. The cliff was not straight: first it went out, and then was deeply concave, such that it would be impossible to drag Taffy over the lip. We thought maybe Don could stand out on the ladder and pull him up, but that was also impossible. Don suggested I could place Taffy with his side on the ladder, and that he would pull the rope and I would climb the ladder with Taffy, and that together we could slide him up. I thought Taffy would struggle and refuse, but I decided to try it. Standing on the ground I lifted while Don pulled. Then I climbed a rung of the ladder and we did it again. My legs were shaking in fear, but it was working. Taffy was completely passive. He must have realized that he had to get up there, and that he had to trust us, there is no other explanation. Occasionally the harness would snag on a rung, and I would need to maneuver it over, but all and all our system worked admirably. In under 10 minutes Taffy was up the ladder standing on his feet! I was drenched in sweat, shaking like a leaf.
Don tied Taffy to a staple in the rock, while I went back down the ladder, packed up my backpack and climbed back up with all our equipment. I looked at where the trail now went and I saw that the ordeal was not over. We had to navigate a ledge that was less than a foot wide along a cliff. There was a cable for us to hold on to, but it wasn't wide enough for Taffy to walk on. Again with Don ahead and me behind we used the harness to get him to walk across. At that point I remember having a brief failure of courage - at that spot, looking up at scary climbing still ahead, with that huge drop below - I didn't want to continue. Of course, I had apsolutely no choice. We now faced a series of short cliffs with staples. Don would go first holding the rope, while I held Taffy, then when Don was anchored, he'd pull, I'd push, and Taffy scrambled. This finally led us to another ledge. It was much wider than the first one and Taffy wasn't worried by it, but there was a long long drop down. One more relatively easy scramble from that ledge and we were on the top.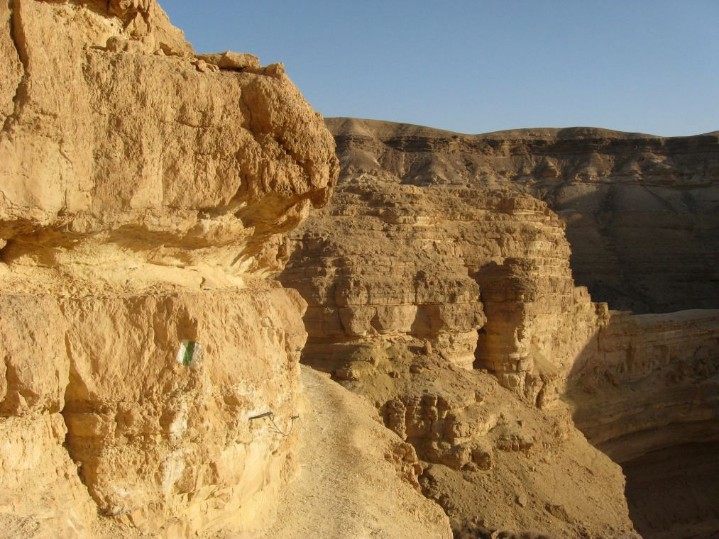 We had climbed Ma'ale Palmach and Taffy - ears up, tail up and wagging - was no worse for the wear. Our only problem now was that we had drunk the last of our water at the end of the climb. This was not life threatening with only a few more kilometers of easy hiking to the road, (and our last stash of water), but also not pleasant in that dry heat. Then we saw, right in the middle of the path, a full bottle of water. The young woman we'd seen on Yamin must have left it there in case we needed it. We did!
It was 4pm and we could see the road ahead of us, but why were there a bunch of people laughing and yelling? It turns out there was a spring, Ein Yorkeam ( עין ירקעם) right there near the road. We couldn't resist. We left our packs near the path, went quickly down to the bottom of the wadi and in the top spring away from the other people we took off our clothes and washed off the caked on grime and sweat.
Twenty minutes later, we were on Rt. 206, Don had gotten our water bottles, and I was carefully putting the Golan Stone under a rock near the trail when a guy in a small truck with a trailer full of camping supplies asked us if we needed any help. We asked him if he could take us to the bus stop at the junction of Rt. 206 and Rt. 25 which was about 10 kilometers away. He said jump in, and we were on our way back to Haifa.